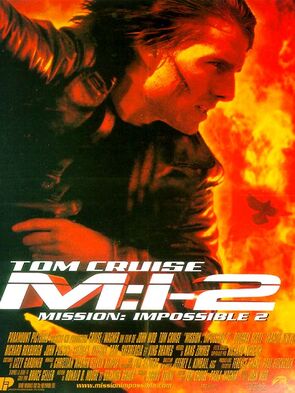 Mission: Impossible II (2000)
a.k.a. M:1-2
Director: John Woo
List still incomplete
Male Deaths:
[
]
Female Deaths:
[
]
Gallery
[
]
Trivia 
[
]
This was the highest grossing film of 2000
Dougray Scott was originally slated to play Wolverine in X-Men (2000), but had to pull out when shooting on this film went into overtime.
Production was delayed because Tom Cruise was shooting Eyes Wide Shut (1999) with

Stanley Kubrick

 for over a year.
Tom Cruise's then-wife Nicole Kidman suggested Thandie Newton (Kidman's co-star in

Flirting (1991)

as the love interest for Ethan Hunt. She was cast before the script was written.

John Woo's

first cut of the film clocked in at three and a half hours. The studio balked at this length, and told him that the final length could not exceed two hours. This would explain why there are so many plot holes and continuity errors in the theatrical cut.