Wiki Targeted (Entertainment)
Play Sound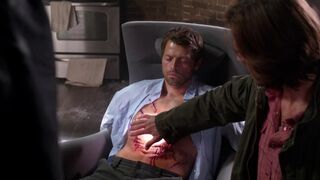 Misha Collins (1974 - )
TV Deaths
[
]
Supernatural: The French Mistake (2011) [Himself/Castiel]: Playing a dual role as a fictionalized version of himself, Misha is stabbed by Carlos Sanz in the alternate universe where Jared Padalecki and Jensen Ackles are in a fictionalized version of Supernatural.
Supernatural: Hello, Cruel World (2011) [Castiel]: Disintegrates in a nearby reservoir when he plunges underwater after being possessed by the Leviathans. He is brought back to life by God and takes the identity of Emmanuel, with no recollection of his memories as Castiel.
Supernatural: I'm No Angel (2013) [Castiel]: Stabbed in the stomach by Shannon Lucio with the Angel-Killing blade just as Jared and Jensen storm her apartment to rescue him. He is brought back to life by Jared (possessed by Tahmoh Penikett [Gadreel]).
Supernatural: All Along the Watchtower (2017) [Castiel]: Stabbed the back and chest with an angel-killing blade by Mark Pellegrino while escaping an alternate reality as Jared Padalecki and Jensen Ackles look on in shock.
Supernatural: Exodus (2018) [Castiel/Apocalypse Castiel] Playing a dual role. The Apocalypse Castiel is stabbed in the abdomen with an angel killing blade by his real self.
Supernatural: Despair (2020) [Castiel]: Killed when he sacrifices himself as he lets The Shadow absorb him into The Empty which also absorbs Lisa Berry as she approaches him while Jensen Ackles watches on in shock