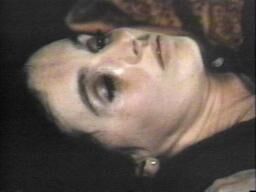 Millie Perkins (1936 - )
The Diary of Anne Frank (1959) [Anne Frank]: Dies (off-screen) of typhus in a concentration camp. Her death is confirmed in an epilogue sequence of her father (Joseph Schildkraut) discussing her death months after the fact.
The Shooting (1966) [The Woman]: Shot to death in a gunfight with Warren Oates in the desert. We see them both fire, followed by a slow-motion sequence of Warren falling; when it cuts back to Millie, she is lying face-down on the ground with the other Warren Oates beside her. (It's ambiguous whether Warren's double role was meant to be symbolic or a literal "twin brothers" role). (Thanks to Dick Hertz)
Lady Cocoa (Pope Goes the Weasel) (1975) [Marie]: Shot to death in a shoot-out in a public restroom.
The Witch Who Came from the Sea (1976) [Molly]: Commits suicide by taking an overdose of sleeping pills, with her boyfriend (Lonny Chapman) and sister (Vanessa Brown) by her side. As she loses consciousness, the movie fades out on a symbolic dream/image of her sailing away on a raft.
Macbeth (1981) [Lady Macduff]: Killed by assassins sent by Jeremy Brett.
Table for Five (1983) [Kathleen]: Killed (off-screen) in a car crash. We only see the wreckage afterwards; her body is not shown.
Community content is available under
CC-BY-SA
unless otherwise noted.