(11 intermediate revisions by 4 users not shown)
Line 1:
Line 1:
−

Milena Dravic (1940 -)

+

Milena Dravic (1940 -)

 
 
−

[[File:Milenadravic.jpg|thumb|256px]]

+

[[File:Milenadravic.jpg|thumb|256px]]

 
 
 
 
 

== Film Deaths ==

 

== Film Deaths ==

−

* '''Kozara (1963)''' [''Girl'']: Machine-gunned by a German soldier after she stand up to him proclaiming herself a Communist. ''(Thanks to Zoran)''

+

* '''Kozara (1963)''' ['''']: Machine-gunned by a German soldier after she stand up to him proclaiming herself a Communist. ''(Thanks to Zoran)''

−

* '''''WR: Mysteries of the Organism''''' ''(WR: Misterije organizma; Mystery of the Body)'' '''(1971)''' [''Milena'']: Decapitated (off-screen) with a ice-skate blade by Ivica Vidovic; we only hear her scream over footage of Ivica skating. Her severed head is shown afterwards in the morgue. (In keeping with the movie's surreal nature, her head comes back to life and delivers a monologue to the camera).

+

* '''''WR: Mysteries of the Organism''''' ''(WR: Misterije organizma; Mystery of the Body)'' '''(1971)''' [''Milena'']: Decapitated (off-screen) with a ice-skate blade by Ivica Vidovic; we only hear her scream over footage of Ivica skating. Her severed head is shown afterwards in the morgue. (In keeping with the movie's surreal nature, her head comes back to life and delivers a monologue to the camera).

 
+
 
+
 
+
 
+
 
+
 
+

==Notable Connections==

 
+

*Mrs. [[Dragan Nikolic]] (widowed)

 
+

{{DEFAULTSORT:Dravic, Milena}}

 

[[Category:Listed on Original Cinemorgue]]

 

[[Category:Listed on Original Cinemorgue]]

 

[[Category:Actresses]]

 

[[Category:Actresses]]

 

[[Category:1940 Births]]

 

[[Category:1940 Births]]

 

[[Category:Yugoslavian actors and actresses]]

 

[[Category:Yugoslavian actors and actresses]]

 
+

[[Category:Death scenes by decapitation]]

 
+

[[Category:Brought back from the dead]]

 
+

[[Category:Death scenes by shooting]]

 
+

[[Category:2018 Deaths]]

 
+

[[Category:Widowed actors and actresses]]

 
+

[[Category:Legends]]

 
+

[[Category:Illness victims]]
---
Latest revision as of 11:29, 30 April 2021
Milena Dravic (1940 - 2018)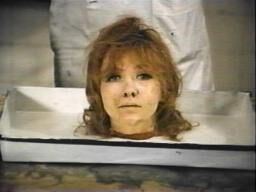 Film Deaths
[
]
Kozara (1963) [Milja]: Machine-gunned by a German soldier after she stand up to him proclaiming herself a Communist. (Thanks to Zoran)
WR: Mysteries of the Organism (WR: Misterije organizma; Mystery of the Body) (1971) [Milena]: Decapitated (off-screen) with a ice-skate blade by

Ivica Vidovic

; we only hear her scream over footage of Ivica skating. Her severed head is shown afterwards in the morgue. (In keeping with the movie's surreal nature, her head comes back to life and delivers a monologue to the camera).
Notable Connections
[
]