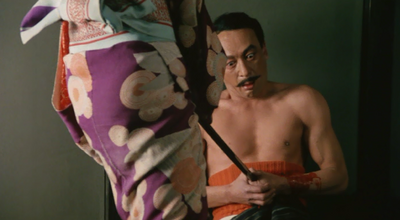 Mikio Narita (1935 - 1990)
Film Deaths
Edit
Zatoichi and the Chess Experts (Zatoichi Jigoku tabi) (1965) [Tadasu Jumonji]: After being cut by Shintaro Katsu and his cane sword, is stabbed to death by the kids whose parents he killed.
Sleepy Eyes of Death: A Trail of Traps  (Nemuri Kyoshiro 9: Burai-Hikae masho no hada) (1967) [Ukon Saegusa]: Dies in a sword duel with Raizô Ichikawa.
Female Prisoner #701 Scorpion: Beast Stable (Joshuu sasori: Kemono-beya) (1973) [Detective Kondo]: Strangled to death in a prison cell with a rope.
Hanzo the Razor: Who's Got the Gold? (Goyôkiba: Oni no Hanzô yawahada koban) (1974) [Bansaku Tonami]: Killed in a duel with Shintaro Katsu.
New Battles Without Honor and Humanity 2: Boss's Head (Shin jingi naki tatakai: Kumicho no kubi) (1975) [Yakuza Boss]: Shot to death by rival gangsters.
Karate Bullfighter (Kenka karate kyokushinken) (1976) [Nakasone]: Dies in a fist fight duel with Sonny Chiba.
Okinawa Yakuza War (Okinawa Yakuza Senso) (1976) [Onaga]: Machine gunned to death by Hiroki Matsukata during the film's climatic boat chase. 
Message From Space (Uchu Kara no messeji) (1978) [Rockseia XII]: Stabbed in the forehead by Sonny Chiba which causes him to crash through a window and fall from the building.
The Shogun's Samurai (Yagyû ichizoku no inbô) (1978) [Ayamaro Karasumasu (Noble)]: Cut down with a sword by Sonny Chiba while Miko is blinded by the sunlight, in revenge for killing Chiba's brother.
Samurai VS Bandit Squadron (Kumokiri Nizaemon) (1978) [Spy]: Cut down in a rice field by Tatsuya Nakadai's men.
Never Give Up (Yasei no shômei) (1978) [Nakado]: Hit in the head with an axe by Ken Takakura.
Samurai Reincarnation (Makai tenshô) (1981) [Izumori Matsudaira]: Hung to death by a magical lasso controlled by Kenji Sawada.
The Geisha (Yokiro) (1983) [Inaso]: Shot to death by Ken Ogata.
Fireflies in the North (Kita no hotaru) (1984) [Kido]: Stabbed in the stomach by his lover.
Sure Death Revenge (Hissatsu 4: Urami harashimasu) (1987) [Lord Sakai]: Poisoned by Hiroyuki Sanada.
TV Deaths
Edit
None
Community content is available under
CC-BY-SA
unless otherwise noted.