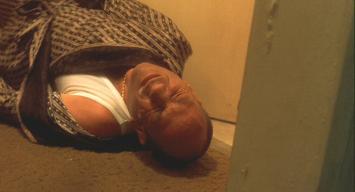 Miguel Ferrer (1955 - 2017)
Film Deaths
DeepStar Six (1989) [Snyder]: Dies of explosive decompression when he tries to escape the undersea station in a capsule and surfaces too quickly.
Another Stakeout (1993) [Tony Castellano]: Shot repeatedly in the chest and stomach in a shoot-out with Richard Dreyfuss and Emilio Estevez (after being knocked into a swimming pool); his body then falls back into the water.
Royce (1994) [Gribbon]: Killed in an explosion, along with Anthony Stewart Head and his cohorts, after James Belushi fastens a bomb to Miguel's belt while Miguel is hanging from a helicopter.
The Night Flier (1997) [Richard Dees]: Shot repeatedly by police after he attacks them with an axe (convinced they're vampires). His body is later seen when photographers take pictures of him.
Mulan (1998; animated) [Shan-Yu]: Killed in an explosion after a firework rocket is fired at him, knocking him into a tower filled with fireworks.
Traffic (2000) [Eduardo Ruiz]: Poisoned when he eats the dinner brought by an assassin posing as a bellhop; he dies shortly afterwards as Don Cheadle tries to save him.
Wrong Turn at Tahoe (2009) [Vincent]: Presumably shot in the back of the head by Cuba Gooding Jr. in Miguel's car; the movie ends with Cuba holding the gun to Miguel's head, but Cuba's dialogue indicates that he intends to shoot.
Hard Ride To Hell (2010) [Jefe]: Killed in an explosion when an amulet is turned back on him by Laura Mennell.
The Courier (2012) [Mr. Capo]: Shot in his kitchen, along with his wife (Lili Taylor), by Jeffrey Dean Morgan as they cook a meal together after torturing him.
Rio 2 (2014; animated) [Big Boss]: Swallowed whole (off-screen) by an anaconda; we see Miguel attempting to placate it with a lollipop, but later cut back to see the snake has eaten him instead. 
TV Deaths
Medium: Being Joey Carmichael (2008) [Joey Carmichael/Teddy Carmichael]: Playing a dual role as twins, "Teddy" is shot to death by Alex Fernandez, some time before the episode begins; "Teddy" only appears in flashbacks (with his spirit then possessing his twin). "Joey" survives the episode.
Adventure Time; Astral Plane (2015; animated) [Grod]: Playing the voice of one of four faces on a four headed deity being (along with Tom Kenny, Tom Gammill and Melissa Villasenor), all four die when they sacrifice themselves by crashing into a comet that's about to crush Mars.
Deaths in Video Game
Halo 2 (2004) [Heretic Leader]: Killed by Keith David at the end of a fight in Miguel's hangar.
Notable Connections
Mr. Lori Weintraub (producer).