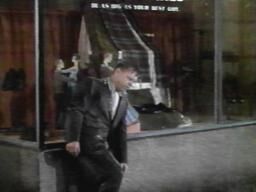 Mickey Rooney (1920 - 2014)
Words and Music (1948) [Lorenz Hart]: Dies of pneumonia after leaving the hospital and walking out in the rain to see his latest show; after leaving the theatre, he collapses in the street outside a shoe store.
The Bridges at Toko-Ri (1954) [Mike Forney]: Killed in a small explosion when North Korean soldiers throw stick grenades at him. (Thanks to Mac)
The Bold and the Brave (1956) [Dooley]: Killed in combat.
The Last Mile (1959) [John 'Killer' Mears]: Shot to death by prison guards when he tries to "escape" (actually a deliberate "suicide-by-cop"). We only hear the shots after he goes through the gates.
The Secret Invasion (1964) [Terrence Scanlon]: A German pill box with a large machine gun has Stewart Granger, Raf Vallone, Henry Silva all penned down. He figures a way to approach the pill box with hand grenades and blows the pill box and himself up. You see him draped over the pill box wall.
Ambush Bay (1966) [Sgt Ernest Wartell]: Wounded in the leg as the commando unit is pursued through the jungle by the japs, he is left behind and when the japs get to him he produces 2 primed grenades and kills himself and a number of them. (Thanks to Brian)
The Manipulator (B.J. Lang Presents) (1971) [B.J. Lang]: Commits suicide by stabbing himself in the chest with a sword, while performing Cyrano de Bergerac's death scene in his warehouse "film studio."
Pulp (1972) [Preston Gilbert] Accidentally shot by Michael Caine.
Thunder County (Cell Block Girls; Convict Women; Swamp Fever; Women's Prison Escape) (1974) [Gas Station Attendant]: Presumably drowned or eaten by an alligator after the female convicts force him to jump out of the boat in the swamp; we only see Mickey jumping overboard, followed by a shot of the alligator.
Babe: Pig in the Big City (1998) [Fugly Floom]: Dies (off screen) of old age; his body is seen when paramedics wheel him out of Mary Stein's hotel and his death is confirmed when Thelonious the orangutang (voiced by James Cosmo) claims he "couldn't wake him up".
Ex-husband of Elaine Devry
Ex-husband of Carolyn Mitchell
Ex-husband of Carolyn Hockett
Husband of Jan Chamberlin
Community content is available under
CC-BY-SA
unless otherwise noted.