Wiki Targeted (Entertainment)
Play Sound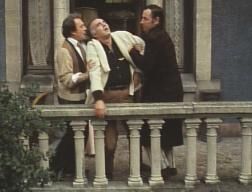 Michel Piccoli (1925 - 2020)
Interdit de séjour (1955) [George]: Machine-gunned to death by polices while trying to escape with his car in parking garage.
Topaz (1969) [Jacques Granville]: Of three different endings (depending what version you see), he dies in two of them: 1) Shot by a sniper while having a gun duel with Frederick Stafford. 2) commits suicide (off-camera) by shooting himself we only hear the shot from outside his home.
The Things of Life (Les Choses de la vie; These Things Happen) (1970) [Pierre Berard]: Killed in a car accident. (See also Richard Gere in the 1994 remake Intersection.) (Thanks to Scheck)
La Grande bouffe (The Big Feast; Blow-Out) (1973) [Michel]: Commits suicide by overeating during an extended feast, causing him to die of excessive flatulence/diarrhea after walking out onto the balcony.
Sept morts sur ordonnance (1975) [Dr. Pierre Losseray]: Commits suicide by shooting himself under the chin with a shotgun after shooting his wife (Marina Vlady) in Marina's apartment.
Une étrange affaire (1981) [Bertrand Malair]: Smothered to death with pillow by Gérard Lanvin in his sleep.
That Night in Varennes (La Nuit de Varennes) (1982) [Louis XVI]: Executed by decapitation with guillotine.
Péril en la demeure (1985) [Graham Tombsthay] Shot to death by his wife (Nicole Garcia) after being shot by Christophe Malavoy causing him to fall stairs in front of his house.
Le Roi Lear (2007 TV Movie) [King Lear]: Dies of old age/natural causes, compounded by grief over the death of his daughter.
Husband of Ludivine Clerc (author).
Community content is available under
CC-BY-SA
unless otherwise noted.