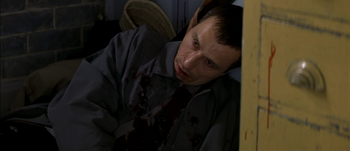 Michael Wincott (1958 - )
1492: Conquest of Paradise (1992) [Moxica]: Commits suicide by jumping off a cliff and landing on a house (historically inaccurate, Moxica was hanged for his role in the mutiny).
The Crow (1994) [Top Dollar]: Impaled by a gargoyle's horns after falling from the cathedral church's roof, when Brandon Lee psychically forces him to experience all 30 hours of his and Sofia Shinas' death in an instant. (Thanks to Wen)
Dead Man (1995) [Conway Twill]: Shot to death (off-camera) by Lance Henriksen as they're riding along together; we hear the shot after the scene fades to black, followed by a scene of Lance eating a human arm by the campfire.
Metro (1997) [Michael Korda]: Burned to death/killed in an explosion when Eddie Murphy causes him to ram into several flammable barrels after jamming the doors with a pole so Michael can't escape.
Community content is available under
CC-BY-SA
unless otherwise noted.