Tags:

apiedit

,

Visual edit

Line 1:
Line 1:
−

[[File:Ben_Mendelsoh_victimc7888.png|thumb|400px|In Black Sea]]

+

[[File:Ben_Mendelsoh_victimc7888.png|thumb|400px| Black Sea]]

 

[http://www.imdb.com/name/nm0806968/ Michael Smiley] (1963 - )

 

[http://www.imdb.com/name/nm0806968/ Michael Smiley] (1963 - )

 
 
---
Revision as of 20:23, 8 May 2015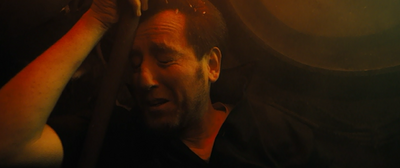 Michael Smiley (1963 - )
Film Deaths
Shaun of the Dead (2004) [Tyres Zombie]: Playing a zombie version of his character from the show Spaced, he died (off screen) of the zombie virus. He can be seen as a zombie when Simon Pegg, Nick Frost, Penelope Wilton, Kate Ashfield, Dylan Moran and Lucy Davis attempt to enter the pub (he's the one in the runner outfit).
Outpost (2007) [McKay]: Killed by one of the undead SS officers.
Down Terrace (2009) [Pringle]: Shot to death (with the last shot to his head) at the end of a chase through a field by an assassin (presumably

David Schaal

or

Gareth Tunley

) sent by

Robert Hill

, after Michael kills Tony Way then helps dispose of his body.
Kill List (2012) [Gal]: Stabbed to death by one of the cultists; he dies while talking to Neil Maskell in a subterranean tunnel (who then shoots him so the pursuing cultists can 't torture him to death).
A Field in England (2013) [O'Neil]: Presumably killed by one of the possessed Civil War deserters
The World's End (2013) [Reverend Green]: Turned into compost by the various other robots (off screen) after Simon Pegg, Nick Frost, Eddie Marsan and Paddy Considine distract them; he is then replaced with a life like robot replacement.
Black Sea (2014) [Reynolds]: Drowns (along with Ben Mendelsohn and Sergey Veksler) when Scoot McNairy locks them inside a rapidly flooding submarine compartment.