Cobra Kai Season 4 - The Loop
Play Sound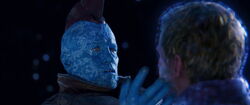 Michael Rooker (1955 - )
Film Deaths
[
]
Eight Men Out (1988) [Chick Gandil]: Died (off-screen) of heart failure.
Sea of Love (1989) [Terry]: Falls to his death (through a front door cover) after being thrown out of a window by Al Pacino (after being shot and struck with a dumbbell following a fight). (Thanks to Gary)
Tombstone (1993) [Sherman McMasters]: Shot to death (off-screen) by Michael Biehn; his body is seen when it is dragged behind a horse and sent to Wyatt Earp (Kurt Russell) and his men (historically, Sherman McMasters was not killed, but he disappeared from historical record around 1892). (Thanks to Gary)
The Bone Collector (1999) [Captain Howard Cheney]: Stabbed to death (off-screen) by Leland Orser outside Denzel Washington's apartment (we later see his body when Leland drops Queen Latifah beside him).
The 6th Day (2000) [Robert Marshall]: Drowned when Arnold Schwarzenegger breaks all the clone-embryo tanks and floods the corridor; his body is shown lying on the floor afterwards. (He had previously lost a leg, but later reappeared intact, indicating that the injured body had been killed and replaced by a clone.) (Thanks to Tal)

The Eliminator (2004)

[Miles Dawson]: Presumably killed (off camera) by his sponsors after Bas Rutten and the remaining competitors manage to escape the island (the scene ends with the sponsors surrounding him).
Slither (2006) [Grant Grant]: Killed when the aliens take over his body and transform him into their host; his body is later destroyed in an explosion (also killing all of the other alien-possessed victims) when Elizabeth Banks shoots him after Nathan Fillion fills him with propane. (Thanks to Eric and Liz)
Whisper (2007) [Sydney Braverman]: Dies of a heart attack, brought on by Blake Woodruff's supernatural powers.
DC Showcase: Jonah Hex (2010; animated short) [Red Doc]: Shot in the chest by Madame Lorraine (voiced by Linda Hamilton) (off camera); the shot is only heard from outside their room. His body is seen later on when Lorraine has her goons dispose of it and when Lorraine leads Jonah Hex (voiced by Thomas Jane) to it.

Hypothermia (2010)

[Ray]: Killed by the creature after he falls through the ice.
Super (2011) [Abe]: Skull cracked after Rainn Wilson caves his head in against the corner of a fire place.
The Belko Experiment (2017) [Bud Melks]: Dies after David Dastmalchian hits him with a wrench, caving in his skull.
Guardians of the Galaxy Vol. 2 (2017) [Yondu Udonta]: Dies of suffocation/freezes in space when he sacrifices himself by flying Chris Pratt (who survives in a spacesuit) off of Kurt Russell's planet. His body is shown when Quill (Chris Pratt) delivers his eulogy at Yondu's funeral, before it is cremated in the ship's engine.
Fantasy Island (2020) [Morgan]: Falls to his death (along with Ian Roberts) when he throws himself and Ian off a cliff to protect Portia Doubleday.
The Suicide Squad (2021) [Savant]: Head explodes when Viola Davis detonates a bomb implanted in his neck after he tries to flee the suicide mission.
TV Deaths
[
]
Video Game Deaths
[
]
Call of Duty: Black Ops 2 (2012) [Navy SEAL Mike Harper]: In the mission Achilles' Veil, Harper participates in a mission to capture Kamar de los Reyes and is held captive by the latter's forces. The player character in the first half of this mission, Omid Abtahi, has a choice to execute Rooker by shooting in the head to maintain his cover, or refuse and fail an assassination attempt on Kamar. Harper's death is required if the player wants to achieve a good ending.
Gallery
[
]