House of the Dragon Trailer - The Loop
Play Sound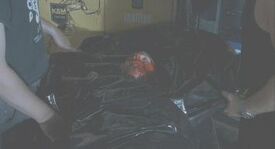 Michael Rapaport (1970 - )
Deaths in Film
[
]
Point of No Return (1993) [Big Stan]: Shot to death by police officers during a shootout at a drugstore.
Higher Learning (1995) [Remy]: Commits suicide by shooting himself during a confrontation with police in a stairwell.
Kiss of Death (1995) [Ronnie Gannon]: Beaten to death by Nicolas Cage in the office of Michael's garage. We only see a close-up of Nicolas during the beating; Michael's body is shown afterwards when Nicolas' men wrap him up in garbage bags to get rid of him.
Palmetto (1998) [Donnely]: Killed when he falls into a bucket of burning acid after the Feds bust in on him as he reaches to pull a suspended Woody Harrelson into the vat.
Deep Blue Sea (1999) [Tom Scoggins]: Eaten by the shark while Thomas Jane looks on helplessly. (Thanks to Tal and Germboygel)
The 6th Day (2000) [Hank Morgan]: Shot to death (off-screen) when assassins attack his helicopter to get Tony Goldwyn. He is replaced by a clone (though we aren't initially aware of the switch), and the clone is shot to death in the crossfire of a shoot-out between Arnold Schwarzenegger and an anti cloning assassin (who breaks into Michael's home). (Thanks to PortsGuy)
Lucky Numbers (2000) [Dale "The Thug" Wagstaff]: Shot repeatedly in the chest, stomach and head by Bill Pullman as they struggle down a flight of stairs as Michael attacks him with a baseball bat.
Comic Book Villains (2002) [Norman Link]: Shot to death (off-camera) by Natasha Lyonne, to spare him from being burned to death after his foot gets pinned by the broken counter as Donal Logue's comic book shop is burning down. We hear the shots from outside the store. (Thanks to Curtis)
29 Palms (2002) [The Cop] Run over with his own police car by Rachel Leigh Cook as he is assaulting Jeremy Davies.
America Brown (2004) [Daniel Brown]: Dies of a heart attack. (Thanks to Aaron)
Inside Out (2011) [Jack Small]: Shot to death after talking to

Paul "Triple H" Levesque

we only hear the shots.
Kiss of the Damned (2012) [Ben Rider]: Bitten on the neck & killed by

Josephine de La Baume

.
Deaths in Television
[
]
Deaths in video games
[
]
Saints Row IV (2013) [Troy Bradshaw]: Is killed off-screen by J.B. Blanc's atomizing of Earth. The expansion pack Gat Out Of Hell reveals that Michael is a denizen of Hell due to his undercover police work and subsequent betrayal of the 3rd Street Saints gang.
Deaths in music videos
[
]
BADBADNOTGOOD (2017; video) [Mr. Clown]: Shot to death by a police officer who confuses the toy gun in his briefcase with a real gun; as he's shot, he spurts out confetti instead of blood.