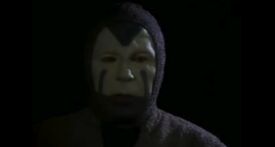 Michael McKean (1947 - )
Film Deaths
Edit
Batman: The Dark Knight Returns Part 2 (2013; animated) [Dr. Bartholomew Wolper]: Neck sliced open after Joker (voiced by Michael Emerson) slashes his neck with a broken coffee cup live on David Endocrine's (voiced by Conan O'Brien) talk show.
TV Deaths
Edit
The Simpsons: The Otto Show (1992; animated) [David St. Hubbens]: Dies in an explosion caused by a car crash, along with Nigel Tufnel (voiced by Christopher Guest) & Derek Smalls (voiced by Harry Shearer), after their bus veers off the road when a school bus driven by Otto (also voiced by Shearer) drives in their path (Played for Comic Effect).
Star Trek: Voyager: The Thaw (1996) [The Clown]: Playing a manifestation of a virtual reality program, he ceases to exist after being tricked by Kate Mulgrew into allowing his captives to go free; without the minds of his captives to keep his program active, he ceases to exist while talking to Kate's hologram.
Batman Beyond: Sneak Peek (2000; animated) [Ian Peek]: Falls into the Earth's core after his uncontrollable intangibility causes him to pass right through the ground.
Clerks The Animated Series: Dante and Randal and Jay and Silent Bob and a Bunch of New Characters and Lando Take Part in a Whole Bunch of Movie Parodies Including, But Not Exclusive toThe Bad News Bears, The Last Starfighter, Indiana Jones and the Temple of Doom, Plus A High School Reunion (2000; animated) [Professor Ram/Creepy Old Guy]: "Professor Ram" is killed in an explosion after Jay (voiced by Jason Mewes) pulls the cave's self destruct lever (Creepy Old Guy survives the episode) (Played for Comedic Effect).
Better Call Saul: Lantern (2017) [Chuck McGill] Commits suicide by kicking over a lantern, allowing his house to burn down while he is in it.
Notable Connections
Edit
Community content is available under
CC-BY-SA
unless otherwise noted.