Wiki Targeted (Entertainment)
Play Sound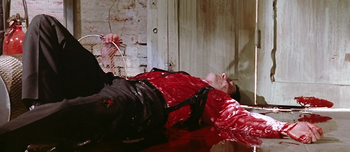 Michael Madsen (1957 - )
Film Deaths
[
]
The Natural (1984) [Bartholomew 'Bump' Bailey]: Accidentally killed when he runs into the stadium wall at high speed while trying to catch a fly ball; we see him crash through the wall, followed by a newsreel report announcing his death.
Kill Me Again (1989) [Vince Miller]: Killed in an explosion along with Joanne Whalley when he drives into a propane tank while fleeing the police. (Thanks to Eric and Scott)
The Doors (1991) [Tom Baker]: Dies of a drug overdose in a deleted scene that was never included on the DVD/Blu Ray extras. [1]
Reservoir Dogs (1992) [Vic 'Mr. Blonde' Vega]: Shot several times in the chest by Tim Roth in the warehouse, just as Michael is about to set Kirk Baltz on fire. (Thanks to Tal)
The Getaway (1994) [Rudy Travis]: Shot in the stomach with a shotgun by Alec Baldwin in an elevator as they both struggle over the firearm, with Alec then shooting out the cables causing the elevator to crash. (Thanks to Gary)
The Last Days of Frankie the Fly (1996) [Sal]: Shot six times to death by Dennis Hopper in a construction site from an overpass at night. (Thanks to Gary)
Rough Draft (Diary of a Serial Killer) (1998) [Haynes]: Slashed and stabbed to death (off-screen) by Arnold Vosloo. His body is later seen when police discover him slumped in his car.
Supreme Sanction (1999) [Dalton]: Shot in the head with a sniper rifle by Kristy Swanson; we only see him look round in the sniper scope, with the scene ending as Swanson fires.
Luck of the Draw (2000) [Zippo]: Shot in the head by Dennis Hopper in the warehouse. (Thanks to Gary and ND)
L.A.P.D.: To Protect and to Serve (2001) [Lt. Alexander]: Shot to death by Steve Bacic after Michael shoots Marc Singer.
Frankenstein (2004) [Detective Harker]: Impaled onto some iron poles - having been thrown through a glass window leaving shards stuck in his body - after

Vincent Perez

throws him off a high storey platform. His body is later seen when Parker Posey and Adam Goldberg go to inspect him.
Kill Bill: Vol. 2 (2004) [Budd a.k.a. "Sidewinder"]: Bitten by a black mamba that Daryl Hannah had hidden in a suitcase full of money. (Thanks to Germboygel)
BloodRayne (2005) [Vladmir]: Killed by vampires in Ben Kingsley's order at the end of a fight.
The Chronicles of Narnia: The Lion, the Witch, and the Wardrobe (2005) [Maugrim]: Providing the voice of a wolf (CGI animated), he is impaled on William Moseley's sword when he lunges at William. (Thanks to ND)
Crash N Burn (2007) [Vincent Scaillo]: Shot repeatedly by a gang banger as Michael tries to shoot Erik Palladino.
Hell Ride (2008) [The Gent]: Killed by Larry Bishop or one of his cohorts.
House (2008) [Tin Man/Fake Officer Lawdale]: Destroyed by

Allana Bale

's powers aided by Reynaldo Rosales and

Hedi Dippold

.
The Bleeding (2009) [Father Roy]: Killed by Vinnie Jones or one of his cohorts.
The Killing Jar (2010) [Doe]: Throat slashed by Amber Benson.
2047: Sights of Death (2014) [Lobo]: Stabbed to death and repeatedly by Neva Leoni after shooting Daryl Hannah.
The Hateful Eight (2015) [Joe Gage]: Shot to death by Walton Goggins and Samuel L. Jackson when he pulls his gun on them, while Jennifer Jason Leigh and Tim Roth look on helplessly.
Magi (2016) [Lawrence Irlam]: Shoots himself in the head when he gets possessed by demonic spirits.
Devil's Domain (2016) [Bill]: Hacked to death with an Axe by one of the devils minions after

Zack Kozlow

shoots him in the shoulder.
Hangover in Death Valley (2018) [Madsen]: Shot to death along with Patrick Bergin (off-screen) by Robert Llewellyn. The scene fades to black and we hear two gun shots.
2 Graves in the Desert (2020) [Vince]: Head bashed in with a fire extinguisher by

Cassie Howarth

.
TV Deaths
[
]
Video Game Deaths
[
]
True Crime: Streets of LA (2003) [Don Rafferty]: Shot in the chest by Gary Oldman when Michael leaps in front of a shot that was intended for Russell Wong in the game's good ending. Michael survives in the game's average and bad endings.
Yakuza (2005) [Shimano]: Shot to death by Kenji Nomura after Michael throws a grenade at Debi Derryberry and

Roger L. Jackson

.
Reservoir Dogs (2006) [Mr. Blonde]: Shot to death by Scott Menville in a warehouse. (See also Michael's death in the film version.)
Dishonored (2012) [Daud]: Throat slit and flung over the edge of a building, should the player take the option of killing him; Michael survives the game if the player chooses to spare his life. (Canonically, he survives the game.)
Mob of the Dead (2013) [Michael "Finn" O'Leary]: Devoured by zombies in prison.
The Walking Dead: In Harm's Way (2014) [William "Bill" Carver]: Bludgeoned to death with a crowbar by Gavin Hammon as Melissa Hutchison (player's decision) and

Shay Moore

look on.
Dishonored: Death of the Outsider (2017) [Daud]: Dies of natural causes (off-screen). His spirit is seen later in the game.
Notable Connections
[
]
Gallery
[
]