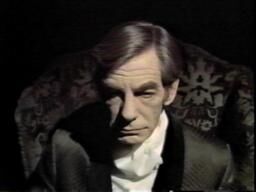 Michael Gough (1916 - 2011)
Film Deaths
[
]
Blanche Fury (1948) [Laurence Fury]: Shot in the chest with a musket by Stewart Granger, in the garden of Michael's mansion. (Thanks to Brian)
Night Was Our Friend (1951) [Martin Raynor]: Kills himself by deliberately drinking the nightcap laced with sedatives with which Elizabeth Sellars had been planning to murder him. He had confronted her after seeing her preparing the drink. (Thanks to Brian)
Horrors of the Black Museum (Crime in the Museum of Horrors) (1959) [Edmond Bancroft]: Stabbed to death by

Graham Curnow

after Graham jumps from a ferris wheel and lands on Michael. (Thanks to John)
The Edgar Wallace Mystery Theatre; Candidate For Murder (1962) [Donald Edwards]: Shot by the dying Hans von Borsody as he is about to shoot John Justin. (Thanks to Brian)
Black Zoo (1963) [Michael Conrad]: Strangled by Rod Lauren as vengeance for killing his mom (

Claudia Brack

) and making him mute.
Berserk! (Circus of Terror) (1967) [Dorando]: Impaled through the head with a spike when Judy Geeson hammers it through a wall against which Michael is leaning. (Thanks to John)
Trog (1970) [Sam Murdock]: Killed by 'Trog' (Joe Cornelius) as Michael tries to frame him. (We never see him again after this scene).
Horror Hospital (1973) (Computer Killers; Doctor Bloodbath) [Dr. Christian Storm]: Decapitated when Robin Askwith drives past him in Michael's own spring-blade-equipped car; his severed head is shown in the catching basket afterwards. (Michael's face is covered with monstrous/disfigured make-up in his final scenes.)
The Fourth Protocol (1987) [Sir Bernard Hemmings]: Dies (off-screen) of an unspecified illness; his funeral is shown at the end of the film. (Thanks to Graeme)
Uncovered (1994) [Don Manuel]: Suffocated (off-screen) by John Wood, making it appear that he died of emphysema; we learn of his death afterwards when Kate Beckinsale gets the news. (Thanks to Eric)
The Cherry Orchard (1999) [Fiers]: Playing an elderly servant, Gough is accidentally left abandoned inside of a locked and boarded-up house after the owners and other staff leave the property for good. At the end, he's resigned to his fate and is last seen sitting in a chair, patiently waiting to die.
TV Deaths
[
]
The Avengers: The Cybernauts (1965) [Dr. Clement Armstrong]: Killed by his own creations after his control-device malfunctions. (Footage from his death scene was repeated in the 1967 episode The Return of the Cybernauts.) (Thanks to PortsGuy)
The Avengers: The Correct Way to Kill (1967) [Nutski]: Stabbed to death when Diana Rigg throws a saber at him while he's trying to kill Patrick Macnee. (Thanks to PortsGuy)
Blake's 7: Volcano (1980) [Hower]: Commits suicide by pressing a button that causes his entire planet to explode. (Thanks to PortsGuy)
Blackeyes (1989; miniseries) [Maurice James Kingsley]: Presumably beaten to death by his niece (

Carol Royle

). (I haven't seen this mini-series, but I vaguely recall the novel.)
Notable Connections
[
]
Ex-Mr.

Diana Graves

Ex-Mr. Anne Leon
Ex-Mr.

Anneke Wills
Gallery
[
]