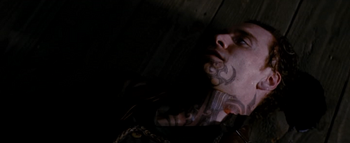 Michael Fassbender (1977 - )
300 (2006) [Stelios]: Shot in the chest with numerous arrows during a battle with Rodrigo Santoro's army; he dies shortly afterwards with Gerard Butler kneeling by his side. (Thanks to Tommy, Gordon, Vegeta, and Aubrey)
Angel (2007) [Esme]: Commits suicide (off-screen) by hanging himself ; his body and funeral are shown afterwards. (Thanks to Aubrey)
Eden Lake (2008) [Steve]: Stabbed repeatedly by Jack O'Connell and Jack's gang (he later dies of shock, blood loss or infection as his wife tries to save him). (Thanks to ND and Aubrey)
Jonah Hex (2010) [Burke]: Slashed to death by the motor of a boat when Josh Brolin shoves him into it; Josh then burns his body into ash by hitting him while deliberately bringing him back to life too long. (Thanks to Tommy, ND, and Aubrey) 
Haywire (2011) [Paul]: Shot in the face by Gina Carano (through a pillow to muffle the shot) at the end of a fight. (Thanks to Aubrey)
Macbeth (2015) [Macbeth]: Stabbed and slashed by Sean Harris at the end of a sword fight after he willingly yields to Sean, while their respective soldiers look on. (Thanks to Tommy, Andrew, ND, and Aubrey)
Alien: Covenant (2017) [David/Walter]: Michael plays duel roles in the film. "Walter" is presumably stabbed to death (off-screen) by "David". We last see David grabbing a knife to stab Walter, and Walter is not seen from that point forward in the film. 
A Bear Named Winnie (2004 TV) [Lt. Harry Colebourn]: Dies (off-screen) of old age/natural causes; his death is mentioned in the on-screen text at the end of the movie. (Thanks to Aubrey)
Gunpowder, Treason and Plot (2004 TV) [Guy Fawkes]: Executed by hanging. (Thanks to Aubrey)
Julian Fellowes Investigates: A Most Mysterious Murder: The Case of Charles Bravo (2004) [Charles Bravo]: Poisoned (though I don't know any other details). (Thanks to Aubrey)
Murphy's Law: Boy's Night Out (2005) [Caz Miller]: Shot to death by James Nesbitt. (Thanks to Aubrey)
Community content is available under
CC-BY-SA
unless otherwise noted.