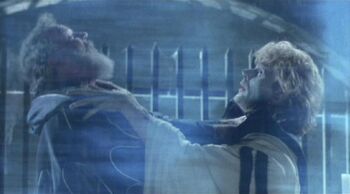 Michael Des Barres (1948 - )
Musician
Ghoulies (1984) [Malcolm Graves]: Dies (off-screen) under unspecified circumstances (referred to in Jack Nance's narration as "a horrible death") at some point between the opening prologue and the main story. He is brought back to life by an occult ritual that his son (Peter Liapis) is compelled to perform, and is finally destroyed in a duel of magic between Michael and Jack.
Nightflyers (1987) [Jon Winderman]: (More info needed.)
Miami Vice: Baseballs of Death (1988) [Shane DuBois]: Shot to death by Rafael Lima on the orders of Tony Plana for attempting to blackmailing him, not knowing that Tony was a Dangerous Officer of Pinochet's Dictatorship.
There are also several episodes of MacGyver where, as "Murdoc", he is seemingly killed off at the end, but he always returns alive and well in a later episode.
Community content is available under
CC-BY-SA
unless otherwise noted.