Spider-Man: No Way Home Trailer Dropped - The Loop
Play Sound
Michael Biehn (1956 - )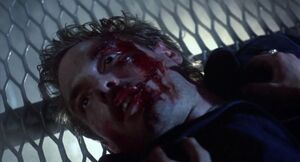 Film Deaths
[
]
The Fan (1981) [Douglas Breen]: Stabbed in the throat by Lauren Bacall.
China Rose (1983) [Daniel Allen]: Fatally shot and dies after talking with George C. Scott, and

Rose Arrow

.
The Terminator (1984) [Kyle Reese]: Killed in an explosion after he sticks a bomb into Arnold Schwarzenegger's robot body in an empty factory. His body is shown again afterwards being placed in a body bag.
The Abyss (1989) [Lt. Hiram Coffey]: Crushed when his vessel sinks into the abyss and implodes by the water pressure.
Alien 3 (1992) [Cpl Dwayne Hicks]: Even though Michael didn`t appear in this film it is revealed that his character from Aliens was killed in the film's opening. However in the video game: Aliens: Colonial Marines, it turns out he's alive and was kidnapped by mercenaries working for Weyland Yutani and the person that was killed was an unnamed colonist.
Tombstone (1993) [Johnny Ringo]: Shot in the forehead by Val Kilmer during a duel. Historically inaccurate, Ringo's death was ruled a suicide.
Jade (1995) [Bob Hargrove]: Shot to death by Chazz Palminteri while Michael is trying to kill David Caruso.
Blood of the Hunter (1995) [Blake]: Shot to death by

Gabriel Arcand

. 
Mojave Moon (1996) [Boyd]: Killed in a car crash when Danny Aiello forces Michael to drive his tow truck off of a cliff.
The Rock (1996) [Commander Anderson]: Shot to death by Tony Todd during a shoot-out with Ed Harris' men.
The Art of War (2000) [Robert Bly]: Accidentally stabbed in the throat when he falls on a shard of glass during a fight with Wesley Snipes in the U.N. Building's lobby.
Cherry Falls (2000) [Sheriff Brent Marken]: Hit in the chest with an axe after being stabbed in the neck by Jay Mohr.
Megiddo: The Omega Code 2 (2001) [David Alexander]: Presumably dies after being stabbed in the stomach or gut by Michael York. Though they never show him die his fate is strongly implied that "God took him". 
Dragon Heat (Mang lung) (2005) [Petros Angelo]: Shot to death in a shoot-out with Interpol agents.
The Insatiable (2006) [Strickland]: Possibly attacked and killed by the vampire duo of Charlotte Ayanna or Sean Patrick Flanery when he commands them to come attack him while he`s holding his rifle.
Grindhouse (2007) (Planet Terror) [Sheriff Hague]: Accidentally shot in the neck (off-screen) by Tom Savini during a battle with the mutants; he dies some time later while sitting next to Jeff Fahey.
Stiletto (2008) [Lee]: Impaled through the head with a crowbar by Stana Katic.
Streets of Blood (2009) [Agent Michael Brown]: Shot in the chest multiple times by Curtis '50 Cent' Jackson.
Bereavement (2010) [Jonathan Miller]: Shot in the stomach with a rifle by Brett Rickaby outside Brett's farmhouse. His body is shown again later on after Brett takes it back to Michael's home, when Kathryn Meisle discovers him.
The Divide (2011) [Mickey]: Burned to death along with

Iván González

when Milo Ventimiglia sets himself on fire setting the whole bunker ablaze.
Jacob (2011) [Lawrence Kell]: Shot in the chest by

Leo D. Wheeler

.
Sushi Girl (2012) [Mike]: Shot to death by a masked Mark Hamill as Hamill, Andy Mackenzie, Tony Todd, James Duval and Noah Hathaway storm Biehn, Danny Trejo and Jeff Fahey's den of operations.
Treachery (2013) [Henry]: Commits suicide off-screen by shooting himself in the mouth with a .45 pistol.
Scorpion King 4: Quest for Power (2015) [King Yannick]: Killed by Will Kemp after Will stings him with scorpions to frame Victor Webster for the murder.
Hidden in the Woods (2016) [Oscar Crocker]: Shot in the back by William Forsythe, Michael in turn blows Will`s head off with a shot gun before dying.
The Shadow Effect (2017) [Sheriff Hodge]: Shot in the head by Cam Gigandet.
TV Deaths
[
]
The Martyrdom of Saint Sebastion (1984 TV) [Saint Sebastion]: Shot to death with arrows after being tied to a tree by a mob.
A Taste for Killing (1992 TV Movie) [Bo Landry]: Shot to death by Brandon Smith while Michael is trying to kill Henry Thomas; his body then falls from a crane into the ocean.
Conundrum (1996 TV) [Det. Stash Horvak]: Commits suicide by pulling the trigger of the gun he is being held at by Marg Helgenberger.
Chain of Command (2000 TV) [Craig Thornton]: Shot to death during a standoff by Patrick Muldoon after Patrick shooting Ric Young.
The Legend of Butch & Sundance (2004 TV) [Mike Cassidy]: Shot to death by Blake Gibbons after Blake is revealed as a Pinkerton agent.
Curfew: Episode 2 (2019) [Roadkill Jim]: Shot in the chest by a sniper, which causes him to pass out on the wheel of his vehicle and crash into a fiery explosion.
The Mandalorian: Chapter 13: The Jedi (2020) [Lang]: Shot in the chest by Pedro Pascal
Gallery
[
]
Notable Connections
[
]
Ex-husband of Carlene Olson.
Ex-husband of Gina Marsh.