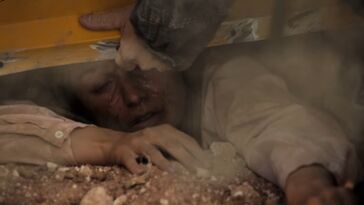 Melissa Benoist (1988 - )
Film Deaths
[
]
Television Deaths
[
]
The Flash: Duet (2017) [Kara]: Conscience captured and transported into an alternate world created by Music Meister to test Kara and Barry. She temporarily dies after being shot multiple times in the chest in crossfire during a gang war, along with Barry (Grant Gustin). They are brought back to their current reality by Cisco and then revived when they profess their love to Mon-El and Iris respectively.
Legends of Tomorrow: Crisis on Earth-X, Part 4 (2017) [Kara - Earth-X]: In a dual role as Supergirl from Earth Thirty-Eight and her evil Earth-X doppelganger, the Supergirl Earth-X dies from absorbing too much solar radiation, causing her to explode into a supernova in space as Stephen Amell looks on in horror. (the Supergirl from Earth Thirty-Eight survives the episode.) 
Supergirl: Red Dawn (2019) [Kara/Supergirl]: In a dual role as Supergirl & Red Daughter, Supergirl is electrocuted by purple lightning, and supposedly beaten to death before being resurrected by pulling in sunlight from the grass in a forest after her sister (Chyler Leigh) pleads for her not to leave her. It's never really mentioned or confirmed whether she actually died, but since it's been suggested, we might as well put it on here.
Supergirl: The Quest for Peace (2019) [Red Daughter]: In a dual role as Supergirl and Red Daughter, Red Daughter heroically sacrifices herself to save Supergirl's life by absorbing a sonic cannon blast full of Kryptonite, causing her to die in Supergirl's arms. (Supergirl survives the episode.) 
Gallery
[
]
Noteworthy Connections
[
]