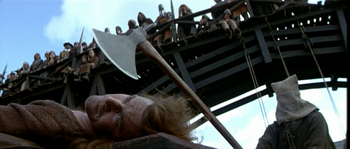 Mel Gibson (1956 - )
Director
Film Deaths
[
]
The Bounty (1984) [Fletcher Christian]: While Mel is alive in the final scene of the film, the epilogue to the movie states that when a British whaling ship arrived on Pitcairn island nearly 20 years later, only Philip Martin Brown was still alive. The rest, including Mel, were presumably murdered in disputes with the Polynesians who accompanied them.
Braveheart (1995) [William Wallace]: Executed by beheading, after being tortured and disemboweled; we only see the axe coming down. It is later said that he was dismembermented and each piece of his body was scattered to show what the English would do to the rest of the Scottish if they were to engage in another war.
Boss Level (2021) [Col. Clive Ventor]: Since he is stuck in a time loop, he dies several times only to be revived when the day resets, including instances where he is shot and decapitated by Frank Grillo. He is finally killed for good when he is shot to death by Frank in order to save Naomi Watts.
 Notable Connections
[
]
Ex-Mr.

Robyn Moore

(Australian voice-over actress)
Gallery
[
]