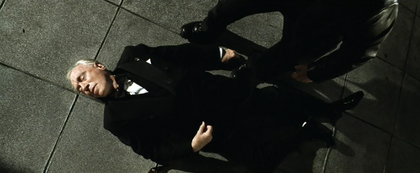 Max von Sydow (1929 - 2020)
Film Deaths
Edit
The Seventh Seal (Det sjunde inseglet) (1957) [Antonius Block]: After returning to his native country during a Plague epidemic, Max and all other members of his entourage are eventually taken away by Death (Bengt Ekerot).
Winter Light (Nattvardgasterna) (1963) [Jonas Persson]: Commits suicide (off-screen); his body is shown afterwards when Gunnar Bjornstrand prepares him for his funeral.
The Exorcist (1973) [Father Lankester Merrin] Dies (off-screen) of a heart attack while performing an exorcism on Regan (Linda Blair). (His death is heavily referenced and reenacted in the sequel, which actually shows him dying (with a stunt double in place for Linda Blair). (There's really NO need to list it again, as he's already dead from the start). (Thanks to Mac)
Illustrious Corpses (Cadaveri eccellenti; The Context) (1976) [Supreme Court's President]: Shot in the head (off-screen) in his study (it's unclear whether it was suicide or murder); his body is shown afterwards. (Thanks to Andrea)
Black Journal (Gran bollita) (1977) [Lisa Carpi/Police Chief]: Playing a dual role (including a female role), "Lisa" is decapitated with a cleaver by Shelley Winters. (Thanks to Francesco)
Brass Target (1978) [Peter Shelley]: Shot in either the upper back, neck or head (unclear where) with a rifle by John Cassavetes as Max tries to escape on skis, as Sophia Loren looks on. His body then falls down the cliff. (Thanks to Gordon)
Flash Gordon (1980) [Emperor Ming]: Impaled on the nose-cone of Sam Jones' spaceship after it crashes into Max's palace. His body vanishes into nothingness in death, but an "epilogue" shot of a hand picking up Max's ring, accompanied by the sound of his laughter, implies that he's not dead after all.
Conan the Barbarian (1982) [King Osric]: Although he survived in the film's original relese, there is a deleted scene in which he is killed by his own servants. (Thanks to Trae)
The Flight of the Eagle (Ingenjör Andrées luftfärd) (1982) [Salomon August Andrée] Dies of (presumably) exposure months after his balloon crash-lands in the Arctic, the movie ends with him standing alone on the shore after his companions (Göran Stangertz and Sverre Anker Ousdal) died.
Strange Brew (The Adventures of Bob & Doug McKenzie: Strange Brew) (1983) [Brewmeister Smith]: Electrocuted to death by Angus MacInnes. (Thanks to Briana)
Dune (1984) [Doctor Kynes]: Dies of thirst and starvation after being left out in the desert to die. (Thanks to Johan)
Ghostbusters II (1989) [Vigo the Carpathian (voice)]: Provides the (dubbed) voice of Wilhelm von Homburg's character, which is a ghost mentioned of getting poisoned, stabbed, shot, hang, stretched, disemboweled, drawn and quartered in 1610. He is later completely destroyed when his painting is hit by the Ghostbusters' beams, causing it to explode.
Until the End of the World (Bis ans Ende der Welt) [Henry Farber]: Dies (off-screen) of old age/natural causes; we learn of his death afterwards when we see his son (William Hurt) standing by his grave.
Minority Report (2002) [Director Lamar Burgess]: Commits suicide by shooting himself in the chest during a confrontation with Tom Cruise. We hear the shot while Max and Tom are standing face to face, creating the impression that Max has shot Tom; we learn that Max actually shot himself when he collapses a moment later.
Dark Kingdom: The Dragon King (Ring of the Nibelungs; Curse of the Ring) (2004) [Eyvind]: Dies of natural causes (off-screen) in his bed, after sending Benno Furman out to get some water. We learn of his death afterwards when Benno returns and wails in sorrow; followed by a scene of Max's funeral pyre. (Thanks to Nemanja and Stephen)
Rush Hour 3 (2007) [Varden Reynard]: Shot in the back by Yvan Attal, just as Max is about to shoot Jackie Chan and Chris Tucker; after we hear the shot, it's unclear exactly who shot who until Max staggers forward and collapses into the fountain. (Thanks to Hannibal, Andrew, and Neil)
Branded (2012) [Marketing Guru]: Vaporized after being randomly struck by a bolt of lightning.
TV Deaths
Edit
Video Game Deaths
Edit
Ghostbusters: The Video Game (2009) [Vigo the Carpathian (voice)]: Destroyed when hit by the ghostbusters ray causing to explode.
Connections
Edit
Community content is available under
CC-BY-SA
unless otherwise noted.