Wiki Targeted (Entertainment)
Play Sound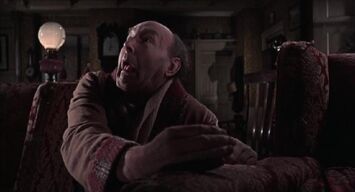 Maurice Denham (1909 - 2002)
Film Deaths:
[
]
Animal Farm (1954; animated) [All Animals]: Providing the voices of all the characters in the story, he dies as the following characters: "Old Major" dies of old age/natural causes after making a speech to the other animals. "Snowball" is mauled to death by dogs on the orders of "Napoleon." Several hens, a sheep, and a duck are mauled to death by dogs following a rigged trial. "Boxer" is killed (off-screen) after being taken to the slaughterhouse. "Napoleon," "Squealer," and the other pigs are killed when the other animals rise up against them. (The deaths of "Napoleon" and his cohorts were not part of the original story, but were added to give the adaptation a more "satisfying" ending.)
Night of the Demon (1957) [Professor Harrington]: Electrocuted by the Demon.
The Night Caller (The Night Caller From Outer Space, Blood Beast From Outer Space) (1965) [Dr Morley): Found dead slumped over his desk after conducting an experiment on the alien sphere. We had seen him struggling to breathe so he may have had a cardiac arrest but his distorted face indicated he may have died of fright after the alien

Robert Crewdson

, manifested itself from the sphere. (Thanks to Brian)
TV Deaths:
[
]
Doctor Who: The Twin Dilemma (1984) [Azmael a.k.a. Professor Edgeworth]: Commits suicide/sacrifices himself by inducing the regeneration process (having used all of his regenerations) while the disembodied spirit "Mestor" attempts to take control of Maurice's body.