Matthew Modine (1959 - )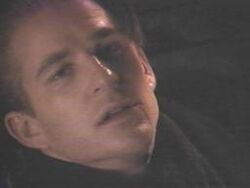 Streamers (1983) [Billy]: Stabbed to death by Michael Wright. (Thanks to Ryan)
Equinox (1992) [Henry Petosa/Freddy Ace/Henry & Freddy's Father]: Playing a triple role as separated-at-birth twin brothers (as well as their father in a flashback), the father is killed in a car accident, and "Freddy" is shot repeatedly in the back by Angel Aviles in a restaurant, while the brother "Henry" looks on in confusion and shock. "Freddy" dies shortly after staggering out into the alley, with "Henry" by his side. ("Henry" survives the movie.)
Fluke (1995) [Thomas P. Johnson/Fluke]: Killed in a car accident; he is reincarnated as a dog for the rest of the movie.
The Blackout (1997) [Matty]: Commits suicide by drowning himself in the ocean, as Claudia Schiffer looks on weeping; the movie ends with him swimming out to sea.
Hitler: Rise to Power (2003 TV Mini Series) [Fritz Gerlich]: Beaten to death in his cell (off-screen) by Nazi soldiers.
Stranger Things: Chapter 8 - The Upside Down (2016) [Dr. Martin Brenner]: Presumably mauled by a monster (played by Mark Steger) after it broke through the walls.
Mr. Caridad Rivera
Father of Ruby Modine and Boman Mark Rivera Modine
Nephew of Wylder Modine
Community content is available under
CC-BY-SA
unless otherwise noted.