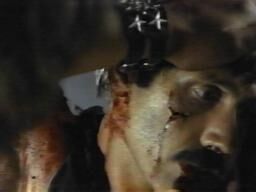 Massimo Vanni (1946 - )
a.k.a. Alex McBride or Patrick O'Neil
Street Law (Il Cittadino si ribella) (1974) [Carlo's Assailant with Unibrow] Crushed by numerous boxes pushed against him with a forklift driven by Giancarlo Prete.
Keoma (Desperado; Django Rides Again; Django's Great return; The Violent Breed)(1976) [Confederate Soldier]: Shot in the chest with a shot gun blast by Franco Nero.
A Special Cop In Action (Italia a mano armata) (1976) [Fabri] Hits his head on rocks after being tied to the back of a car and dragged along.  
Weapons of Death (Napoli spara) (1977) [Rosati - Undercover Cop]: Decapitated when he hits a rope connected between two trees while riding his motorcycle which was set up by two mobsters. 
The Inglorious Bastards (Quel maleditto treno blindato; Counterfeit Commandos; Deadly Mission; G.I. Bro; Hell's Heroes) (1978) [French Resistance Fighter]: Shot to death by German soldiers. 
Day of the Cobra (Il giorno del Cobra) (1980) [Beltrame] Murdered off-screen. His body is discovered by Franco Nero
1990: Bronx Warriors (1990; I guerrieri del Bronx) (1982) [Blade]: Neck snapped by Mark Gregory, as a mercy killing after Massimo had been tortured by a rival gang.
A Pure Formality (Una pura formalita) (1994) [Officer]: Appears as a spirit being in purgatory which is revealed in the end of the film. 
as a professional stunt performer, Massimo has probably "died" in place of several other actors, though I don't know any specific examples.
Community content is available under
CC-BY-SA
unless otherwise noted.