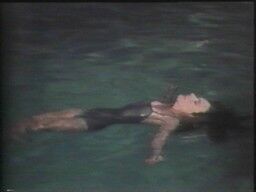 Mary Woronov (1943 - )
Kemek (For Love or Murder) (1970) [Mary Wonderly]: Drowned in her swimming pool by a private detective.
Seizure (Queen of Evil) (1974) [Mikki Hughes]: Throat slit by Martine Beswick.
Warlock (1989) [Channeler]: Dies after being possessed by a demon; she collapses face-forward on the table after the demon leaves her body. (An alternate version was filmed, in which the possession not only killed her but covered her body with ice; a brief excerpt from this unused version is shown in the trailer, which shows Julian Sands speaking to her frozen body.)
Hellroller (1992) [Eugene's Aunt]: Throat slit (off-screen) after being raped by Eric Caidin and Johnny Legend in an alley; the scene ends as Eric and Johnny have her cornered. Her death is confirmed later on when Ron Litman gets the news; her body is not shown. (Note: Mary was credited under the joke pseudonym "Penny Arcade" for this role.) (Thanks to Craig)
The Halfway House (2004) [Sister Cecelia]: Devoured by the tentacled Chthulu wannabe monster after it's shot in the eye by Janet Tracy Keijser.
The House of the Devil (2009) [Mrs. Ulman]: Stabbed in the back by Jocelin Donahue. (Thanks to Matthew)
Logan's Run: Capture (1977) [Irene]: Accidentally shot to death by Horst Buchholz when he fires at Gregory Harrison and hits her instead. (Thanks to Robert)
Babylon 5: The Parliament of Dreams (1994) [Ko'Dath]: Accidentally sucked into space through an airlock (off-screen) some time before the start of this episode. (When Mary was unable or unwilling to continue her role due to the heavy alien make-up, the show's creators explained her sudden absence in this episode by mentioning her "unfortunate airlock accident.")
Community content is available under
CC-BY-SA
unless otherwise noted.