Tags:

apiedit

,

Visual edit

 

(3 intermediate revisions by one other user not shown)
Line 10:
Line 10:
 

*'''''Abe Lincoln in Illinois''' (Spirit of the People)'' '''(1940)''' [''[https://en.wikipedia.org/wiki/Ann_Rutledge Ann Rutledge]'']: Dies of fever, with [[Raymond Massey]] by her bedside. (''Thanks to Wanda'')

 

*'''''Abe Lincoln in Illinois''' (Spirit of the People)'' '''(1940)''' [''[https://en.wikipedia.org/wiki/Ann_Rutledge Ann Rutledge]'']: Dies of fever, with [[Raymond Massey]] by her bedside. (''Thanks to Wanda'')

 
 
−

*'''''The Loves of Edgar Allan Poe'' (1942)''' [''Frances Allan'']: Dies (presumably off-screen) of natural causes.

+

*'''''The Loves of Edgar Allan Poe'' (1942)''' [''Frances Allan'']: Dies off-screen .

 
 
 

==Notable connections==

 

==Notable connections==

Line 23:
Line 23:
 

[[Category:Death scenes by murder]]

 

[[Category:Death scenes by murder]]

 

[[Category:Death scenes by illness]]

 

[[Category:Death scenes by illness]]

 
+

[[Category:Death scenes by fever]]

 
+

[[Category:Parents]]

 
+

[[Category:Off-screen deaths]]

 
+

[[Category:Widowed actors and actresses]]

 
+

[[Category:Historical death scenes]]

 
+

[[Category:Actors who died in Edgar Allan Poe Movies]]
---
Latest revision as of 18:25, 7 November 2017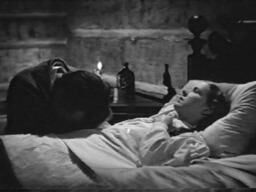 Mary Howard (1913 - 2009)
A.K.A. Mary Rogers
Four Girls in White (1939) [Nurse Mary Forbes]: Killed (though I don't know how exactly) by a crazed patient.
Abe Lincoln in Illinois (Spirit of the People) (1940) [Ann Rutledge]: Dies of fever, with Raymond Massey by her bedside. (Thanks to Wanda)
Mrs. Alfred De Liagre Jr. (producer) (widowed).
Community content is available under
CC-BY-SA
unless otherwise noted.