Wiki Targeted (Entertainment)
Play Sound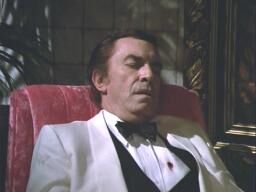 Martin Landau (1928 - 2017)
North by Northwest (1959) [Leonard]: Shot to death by a police sharpshooter as Martin is trying to dislodge Cary Grant off of Mount Rushmore (he then falls from the monument).
Stagecoach to Dancers' Rock (1962) [Dade Coleman]: Shot to death by a wounded stagecoach driver, who had mistaken Martin for an attacking Apache. (Thanks to Gordon)
Cleopatra (1963) [Rufio]: Either commits suicide by throwing himself on his sword or is stabbed by his fellow soldier while refusing to leave the camp (off-screen, unclear what happened) in the desert; his body is shown afterwards when Richard Burton discovers him in his abandoned camp. (Historically, the actual fate of Rufio is a mystery, anything could've happened) (Thanks to Vladimir and Stephen)
Meteor (1979) [Major General Adlon]: Crushed to death (off-screen) by falling rubble when meteorites strike; his body is shown afterwards when Sean Connery discovers him. (Thanks to Tommy)
Alone in the Dark (1982) [Byron 'Preacher' Sutcliff]: Stabbed repeatedly in the chest and stomach by Dwight Schultz at the end of a struggle (after Dwight manages to twist Martin's blade out of his hand), with Dwight then kicking a dying Martin down several flights of stairs.
The Being (1983) [Garson Jones]: Disemboweled (off-screen) by the mutant creature as Bill Osco tries to save him.
Eye of the Stranger (1993) [Mayor Howard Bains]: Shot repeatedly by Wendy Pan as Landau is about to shoot an unarmed David Heavener.
No Place To Hide (1993) [Captain Frank McCoy]: Gunned down - along with a roomfull of his fellow vigilantes - by Kris Kristofferson, whom they've surrounded. (How KK gets the drop on them all must be seen to be believed.)  
Ed Wood (1994) [Bela Lugosi]: Dies (off-screen) of a heart attack; his body is shown afterwards lying in his coffin during his funeral.
The X-Files (1998) [Alvin Kurtzweil, MD]: Killed (off-screen) by John Neville's men. We last see Martin as the men surround him in an alley; his death is confirmed is a later conversation between John and David Duchovny. (Thanks to Stephen)
9 (2009; animated) [2]: Providing the voice of a robotic sack-creature, his soul is sucked out of his body by the BRAIN machine after 9 (voiced by Elijah Wood) accidentally attaches the talisman to the machine. His soul later reappears when 9 releases it. (Thanks to Tommy)
Bonanza: The Gift (1961) [Emeliano]: Shot by Jim Davis; he dies shortly afterwards while talking to Lorne Greene. (Thanks to Gordon)
Outlaws: The Avenger (1961) [Rankin]: Shot in the chest in a shoot-out with Vic Morrow in the saloon.
Gunsmoke: The Goldtakers (1966) [Britton] Shot dead by James Arness as he draws a sword on him (Thanks to Brian)
Mission: Impossible: The Execution (1968) [Rollin Hand/"Joey Pruitt"]: As Rollin, he enacts the role of "death row" inmate "Joey Pruitt" who is "executed" (off-screen) in the gas chamber, and whose presumed (covered) body is seen being rolled out of the chamber on a gurney after the "execution." In fact the whole set-up, including the execution chamber and the "death row cells," as well as Rollin's performance as "Joey," are an elaborate IMF ruse to get fellow "death row inmate" Vic Duchell (Luke Askew), a contract killer who has been promised "clemency" if he rats out his partners in crime, to talk to the authorities. Duchell was earlier knocked unconscious and kidnapped by the IMF team after carrying out what he believed was a contract hit (more IMF fakery) and believes he has amnesia about how he got to be on "death row."
The Death of Ocean View Park (1979) [Tom Flood]: Falls to his death when the Ferris wheel moved briefly.
The Fall of the House of Usher (1982 TV) [Roderick Usher]: Crushed to death when the house collapses around him while he's struggling with his sister (Dimitra Arliss). (Thanks to PortsGuy)
12:01 (1993 TV) [Dr. Thadius Moxley]: Explodes after being hit in the chest by an energy beam from his experimental super-accelerator, when he falls into the beam's path after a struggle with Jonathan Silverman.
In the Beginning (2000 TV mini-series) [Abraham]: Dies of old age/natural causes, after being carried out of his tent. (Thanks to Hamish)
Community content is available under
CC-BY-SA
unless otherwise noted.