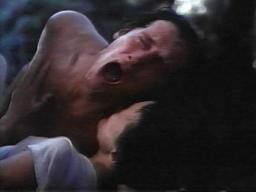 Mark Metcalf (1946 - )
The Final Terror (1983) [Mike]: Stabbed in the back by Tony Maccario while Mark is making love with Cindy Harrell in the woods. (Nudity alert: Rear)
Twilight Zone: The Movie (1983) [ILT Douglas Neidermyer]: Shot to death (off-screen) by his own troops in Vietnam; his death is mentioned while one of the soldiers says "I told you guys we shouldn't have shot Lieutenant Neidermyer!" when they're lost at night wading through flooded fields. Mark does not appear in the film.
Buffy the Vampire Slayer: Prophecy Girl (1997) [The Master]: Impaled through the heart on a piece of wood after being knocked through a skylight by Sarah Michelle Gellar; his body is reduced to a skeleton in death. (Thanks to Alex)
Star Trek Voyager: The Killing Game Part III
Teen Angel: Back to DePolo (1998) [Roderick Nitzke]: Dies (off-screen), of unspecified causes, as a result of Mike Damus' spirit going back in time and trying to prevent his own death. He appears as an angel in the Afterlife, until Mike manages to restore the original timeline. (Played for comic effect.)
Community content is available under
CC-BY-SA
unless otherwise noted.