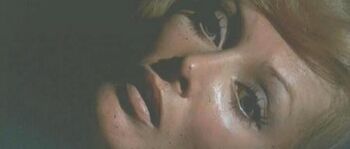 Marina Malfatti (1933 - 2016)
a.k.a. Marina Mulligan
The Fourth Victim (La Ultima Senora Anderson; Death at the Deep End of the Swimming Pool; The Fourth Mrs. Anderson) (1971) [Julie Spencer]: Accidentally drowned when her foot gets caught in the rope attached to the anchor, while she's trying to drown Carroll Baker. (Thanks to Johan)
All the Colors of the Dark (Tutti i colori del buio; Day of the Maniac; Demons of the Dead; They're Coming to Get You) (1972) [Mary Weil]: Stabbed to death (off-screen) by the cultists; there is an earlier scene in which Marina apparently commits suicide by throwing herself onto a knife that Edwige Fenech is holding, but it's suggested that this was a faked death. (Thanks to Johan)
The Red Queen Kills 7 Times (La Dama rossa uccide sette volte; Blood Feast; Feast of Flesh; The Corpse Which Didn't Want to Die) (1972) [Franziska Wildenbruck]: Shot to death by her husband after she attempts to frame him for Sybil Danning's murder. (Thanks to Johan)
Seven Blood-Stained Orchids (Sette orchidee macchiate di rosso; Puzzle of the Silver Half Moons) (1972) [Kathy Adams]: Strangled with a telephone cord by Renato Romano in her art studio. (Nudity alert: Topless) (Thanks to Johan)
The Bloodstained Lawn (Il prato macchiato di rosso) (1973) [Nina Genovese]: Stabbed in the back by her own robot.
Malombra (1974; mini-series) [Marina di Malombra]: Commits suicide by drowning her self in the sea.
Teresa Raquin (1985; mini-series) [Teresa Raquin]: Commits suicide, along with her lover, by taking poison. (I have not seen this mini-series, but I'm assuming her death scene occurs as it did in the original novel.)
Community content is available under
CC-BY-SA
unless otherwise noted.