Wiki Targeted (Entertainment)
Play Sound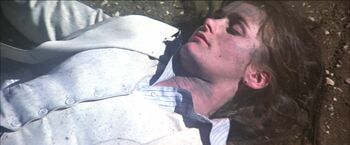 Margot Kidder (1948 - 2018)
Sisters (Blood Sisters) (1973) [Danielle Breton/Dominique Breton]: Playing a dual role, "Dominique" dies (off-screen) during an operation to be separated from her twin sister. For most of the movie, we're led to believe that both sisters are still alive, but it's later revealed that Dominique has been dead since long before the story started, and that the "Dominique" we see is actually Danielle's dual personality. (The "real" Dominique only appears in film footage from the sisters' past.)
Black Christmas (Silent Night, Evil Night; Stranger in the House) (1974) [Barb Coard]: Stabbed repeatedly with a glass unicorn statuette by the killer in her dorm room. Her body is shown afterwards (along with Andrea Martin's) when Olivia Hussey discovers them.
Superman (1978) [Lois Lane]: Suffocated by being buried alive in her car during an earthquake caused by Gene Hackman's missile. Her body is shown afterwards when Christopher Reeve discovers her. Her death is undone when Christopher turns back time by flying around the Earth against its orbit.
The Amityville Horror (1979) [Kathy Lutz]: has an imaginary dream sequence, where she is hit with an axe by her husband (James Brolin). (She survives in reality).
The Clown at Midnight (1998) [Ellen Gibby]: Hit on the head with an axe by Christopher Plummer after she enters the theater. The scene cuts away just before impact, but her body is shown later on, after Christopher has arranged all his victims' bodies sitting in the audience.
Angel Blade (2002) [Frida]: Throat slit by David Heavener in the adult theatre.
Love at First Kill (2008) [Beth] Hit by a train,
Smallville: Spirit (2005) [Bridgette Crosby]: Implied to have been killed (off-screen); Margot does not actually appear in this episode, but Michael Rosenbaum discovers her ID at the site where a body was found. (Thanks to Alex)
Community content is available under
CC-BY-SA
unless otherwise noted.