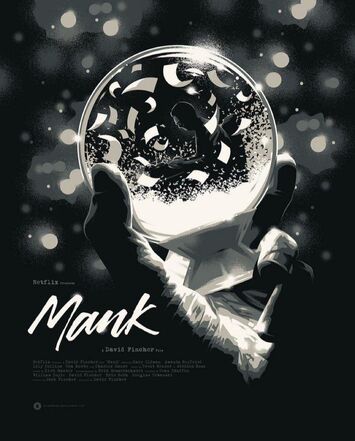 Mank (2020)
Directed by David Fincher
Synopsis
[
]
1930s Hollywood is reevaluated through the eyes of scathing wit and alcoholic screenwriter Herman J. Mankiewicz (Gary Oldman) as he races to finish "Citizen Kane."
Male Deaths
[
]
Female Deaths
[
]
Trivia
[
]
Shot on RED's Helium Monochrome 8K cameras, no color version of this film exists.
The script was written by David Fincher's late father, Jack Fincher.
It's generally assumed that Mank was not welcome at San Simeon because he encouraged Marion Davies to drink, not because of his political rants.
Gary Oldman wanted to wear elaborate prosthetic makeup to closely resemble the historical Herman J. Mankiewicz but was persuaded otherwise by David Fincher, who wanted minimal makeup for capturing a more intimate performance.
Amanda Seyfried told Collider that David Fincher made her shoot one particular scene approximately 200 times, "for an entire week", just to get it perfect. She didn't even have any lines of dialogue.
For most of December 2019, the film was shot at the Kemper Campbell Ranch in Victorville, California, where Herman J. Mankiewicz wrote Citizen Kane (1941). Considering the ranch changed very little over the years, the location helped reflect the time period of the late 1930s.
The score by Trent Reznor and Atticus Ross is drastically different in many ways than anything they've ever done before. For starters, it's not electronic at all, instead using period-authentic instruments and sounds. It's jazzy and '30s-'40s-cinematic. Right from the start, Reznor said it's a "whole new set of challenges" for them. The score album is also more "cinematic" - it contains 52 shorter tracks, with recurring themes, whereas other Reznor & Ross score-albums were standalone pieces with fewer much longer tracks.
One of the big set pieces in the movie occurs when a drunk Herman J. Mankiewicz (Gary Oldman) shows up to Hearst Castle unannounced and crashes a dinner party being thrown by media giant William Randolph Hearst (Charles Dance). Among the many guests around the table is Marion Davies (Amanda Seyfried), the Hollywood actress who was also Hearst's mistress. In a new cover story on the film for Total Film magazine, Dance reveals the Mank team performed over 100 takes of the dinner party scene. "We did take after take after take after take," Dance said. "And Gary Oldman said to David Fincher at one point, 'David, I've done this scene a hundred fucking times.' And Fincher said, 'Yeah, I know, but this is 101. Reset!'" Amanda Seyfried stated, "It was definitely hard," about filming so many takes of the scene. Seyfried further explained, "But at the same time, it's like theater in that you have the luxury of really nailing the tone and the emotion. It does feel like Groundhog Day (1993), in a way, but that's how he captures things that most people don't."