Wiki Targeted (Entertainment)
Play Sound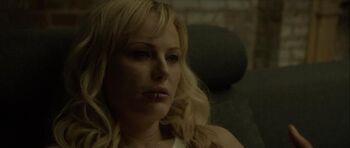 Malin Akerman (1978 - )
Watchmen (2009) [Laurie Jupiter a.k.a. Silk Spectre II]: Vaporized, along with Patrick Wilson, by a nuclear explosion in Patrick's dream sequence. Malin survives the film in reality.
The Numbers Station (2013) [Katherine]: Shot in the back by John Cusack; this turns out to be a daydream sequence of John imagining himself carrying out his instructions to kill her, before he decides not to do so.
Cottage Country (2013) [Cammie Ryan]: Shot several times in the chest, left breast and shoulder by Sabrina Grdevich while she is trying to kill her boyfriend.
The Final Girls (2015) [Amanda Cartwright/Nancy]: Playing a dual role as an actress and her character in the film-within-the-film world, the real-world "Amanda" dies in a car crash while traveling with Taissa Farmiga, who survives the crash. In the world of the film, "Nancy" is stabbed in the back by Dan B. Norris after "Nancy" sacrifices herself so that Taissa can be the "final girl" that is destined to kill Dan.
Misconduct (2016) [Emily Hynes]: Killed (off-screen) when Malin hits her head on a glass table that Alice Eve pushed her through during a struggle, who then stages the scene to look like an overdose; her body is seen when Josh Duhamel discovers it, and again when Josh finds it in his bedroom, having been put there by Byung-hun Lee. The true circumstances of her death are revealed when Alice confesses to Josh.
Rampage (2018) [Claire Wyden]: Eaten by "George the gorilla" (motion captured by Jason Liles) as Dwayne Johnson and Naomie Harris watch on.
Community content is available under
CC-BY-SA
unless otherwise noted.