Wiki Targeted (Entertainment)
Play Sound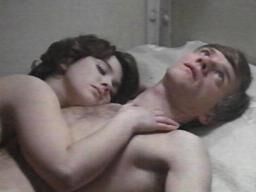 Malcolm McDowell (1943 - )
Film Deaths:
Time After Time (1979) [H.G. Wells]: Died (off-screen) from unspecified causes on 13 August 1946. His death is reported by the on-screen text at the end of the film.
The Passage (1979) [Von Berkow]: Crushed to death/buried alive in an avalanche. (Thanks to Fred)
Britannia Hospital (1982) [Mick Travis]: Decapitated (off-screen) on the operating table by Graham Crowden, who then attaches his head onto a new Frankenstein-like body. After coming back to life, he dies once again when his head comes off at the stitches during a struggle with Graham. (Nudity alert: Full frontal)
Cat People (1982) [Paul Gallier]: Shot to death (while in his leopard form) by Annette O'Toole when he attacks John Heard. His body (still in its leopard form) disintegrates when John starts to perform a necropsy on it.
Moon 44 (Intruder) (1990) [Major Lee]: Killed in an explosion when Michael Pare throws Malcolm's own bomb into the elevator. (Thanks to Robert)
Happily Ever After (1990; animated) [Lord Maliss]: Petrified/turned to stone when his spell is turned against him, in mid transformation between his human and dragon form (It's been a while since Ive seen the film as a child, and Im picking up little from reading the wikipedia; feel free to contribute to the edits.). 
Cyborg 3: The Creation (1995) [Lord Talon]: Electrocuted by Richard Lynch.
Exquisite Tenderness (The Surgeon) (1995) [Dr Stein]: Throat crushed by 

Sean Haberle

 wrapping a chain round his neck. His body is later seen when 

Isabel Glasser

 and James Remar discover him hanging from a metal pole.
Fist of the North Star (1995) [Ryuken]: Shot to death by Costas Mandylor; we only see Costas firing. Malcolm narrates the film from beyond the grave, and occasionally appears as a ghost afterwards. (Thanks to ND)
Tank Girl (1995) [Donald Kesslee]: Dehydrated when Lori Petty turns his own water-draining device against him. (He's in a cyborg body with a holographic head at this point.) (Thanks to Patrick)
Garden of Evil (The Gardener; Silent Screams) (1998) [Ben Carter]: Shot in the chest by Richard Grieco, causing Malcolm to fall arm-first into a woodchipper. (Thanks to BK)
Gangster No. 1 (2000) [Gangster 55]: Commits suicide by jumping from a rooftop. (Thanks to Dave and Graeme)
Evilenko (2004) [Andrej Romanovic Evilenko]: Executed by firing squad (off-screen). We are informed by the text at the end of the movie.
Halloween II (2009) [Dr. Sam Loomis]: Slashed in the face and stabbed in the chest several times by Tyler Mane, who then carries his body to an open window, dropping Malcolm when he is shot by Brad Dourif. In the Unrated Director's Cut, Tyler instead only stabs him once in the gut before dropping him to the ground and being gunned down by Brad and his deputies.
Silent Hill: Revelation (2012) (Silent Hill: Revelation 3D) [Leonard Wolf]: Dies when Adelaide Clemens extracts the whole amulet (having shot him repeatedly to no effect) causing him to spontaneously combust (while Malcolm is in his monster form).
Shock Value (2014) [Edmund Dean Huntley]: Stabbed to death by

Anthony Bravo

, while

Michelle Campbell

and

Rick Shapiro

look on.
American Satan (2017) [Mr. Capricorn]: Shot in the head by Booboo Stewart while on live stage during a rock concert. 
Television Deaths:
Seasons of the Heart (1994 TV) [Alfred McGuinness]: Killed in a car accident while driving drunk; his body is shown afterwards when

Eric Lloyd

sees him. (Thanks to ND)
Lexx: Giga Shadow (1997) [Yottskry]: Stabbed in the neck when a cleric throws a knife at him; his body is shown again afterwards when

Eva Habermann

and Michael McManus discover him. His body is later reanimated by "proto-blood," and he is then absorbed into the

Giga Shadow

's brain (which is later eaten by a lizard). (Thanks to Stephen)
The David Cassidy Story (2000) [Jack Cassidy]: Burned to death (off-screen) when his house gets caught on fire. We learn about his death when Andrew Kavovit was informed about the news.
Island of the Dead (2000; TV movie) [Rupert King]: Killed by a swarm of flies. (Thanks to Gary)
The Curse of King Tut's Tomb (2006; TV movie) [Nathan Cairns]: Incinerated by Jonathan Hyde's powers during a meeting.
Video Game Death:
Wing Commander IV: The Price of Freedom (1996) [Admiral Geoffrey Tolwyn]: Commits suicide (off-screen) by hanging himself in his prison cell. (Thanks to Graeme)
Mummy: Tomb Of The Pharaoh (1996) [Stuart Davenport]: Apparently killed (off-screen) when his attempt to use the crystal backfired. His body was never found although a man in the Amazon jungle searching for Incan treasure fits Malcom's description.
Fallout 3 (2008) [President John Henry Eden]: Providing the voice of a computer, Malcolm is killed when the player character forces him to self-destruct.
Notable Connections:
Gallery