Makoto Sato (1934 - 2012)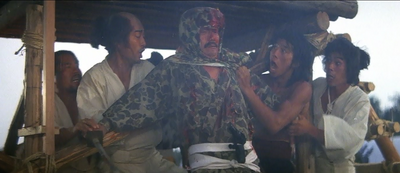 The H-Man (Bijo to ekitai ningen) (1958)

 

[Uchida] Melts away after one of the liquid people falls on top of him.
Whirlwind (Shikonmado - Dai tatsumaki) (1964) [

Shuri Kusanagi

] Shot to death by samurai soldiers. 
Fort Graveyard (Chi to suna) (1965) [Inuyama] Stabbed to death by his fellow soldiers. 
Japan's Longest Day (Nihon no ichiban nagai hi) (1967) [Major Hidemasa Koga - 1st Imperial Guards Division]: Commits suicide via hara-kiri rather than accept that Japan lost the war.
Samaritan Zatoichi (Zatôichi kenka-daiko) (1968) [Yasaburo Kashiwazaki]: Sliced open with a sword in a battle with Shintarô Katsu
The Rise and Fall of the Yakuza (Ninkyo Koubushi Kumicho to Daigashi) (1970) [Yakuza] Shot to death by rival gangsters. 
Yakuza Wolf (Lone Assassin) (Okami yakuza: Koroshi wa ore ga yaru) (1972) [Eguchi] Shot to death by Kôji Nanbara
The Killing Machine (Shôrinji kenpô) (1976) [Kentaro Otaki] Stabbed multiple times by the yakuza.
Message From Space (Uchu Kara no messeji) (1978) [Urocco] Dies during the films climatic battle after being hit with a laser gun beam.
Shogun's Ninja (Ninja bugeicho momochi sandayu) (1980) [Junka no Yatoji]: Shot multiple times with musket shots.
Community content is available under
CC-BY-SA
unless otherwise noted.