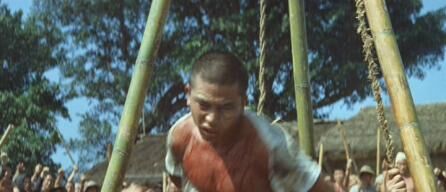 Mako Iwamatsu (1933 - 2006)
a.k.a. Mako
The Challenge (1970) [Yuro]: Killed, along with Darren McGavin (though I don't know the details).
Under the Rainbow (1981) [Nakomuri]: Shot in the chest by Robert Donner, as Mako simultaneously shoots Robert with a special camera-gun. (The whole story turns out to be Cork Hubbert's dream; I can't recall whether or not Mako was shown to have a real-world counterpart after Cork wakes up, or whether his character existed only in Cork's dream.) (Played for comic effect.)
Testament (1983) [Mike]: Dies of radiation poisoning from the fallout of a nuclear attack.
Armed Response (1986) [Akira Tanaka]:
P.O.W. The Escape (Behind Enemy Lines) (1986) [Capt. Vinh] Impaled through the heart by David Carradine . 
The Perfect Weapon (1991) [Kim]: Skull crushed (off-screen) after being head butted by Professor Toru Tanaka.
Crying Freeman (1995) [Shido Shimazaki]: Killed (I believe shot or slashed/stabbed to death) by Mark Dacascos.
Memoirs of a Geisha (2005) [Sakamoto]: Dies off-screen of an unknown cause. His death is mentioned to Ziyi Zhang.
Rise (Rise: Blood Hunter) (2007) [Poe]: Shot in the chest with a crossbow bolt by Lucy Liu, after he tells her where to find James D'Arcy. (The film was released a year after Mako's real life death). (Thanks to Eric)
Touch of Death (1977 TV) [Mr. Yamaguchi]: Commits suicide by jumping through a high rise building window rather than be arrested as Irene Yah-Ling Sun and Jack Klugman look on in shock.
True Crime: Streets of LA (2003) [General Han Yu Kim]: Beaten to death by Russell Wong in the game's good ending. In the game's bad ending, he commits suicide by falling backwards off the heliport of a building. He survives in the average ending.
Community content is available under
CC-BY-SA
unless otherwise noted.