Wiki Targeted (Entertainment)
Play Sound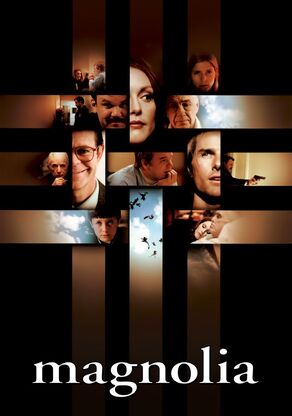 Magnolia (1999)
Director: Paul Thomas Anderson
An epic mosaic of interrelated characters in search of love, forgiveness, and meaning in the San Fernando Valley.
Film debut of Mary Lynn Rajskub.
Ingmar Bergman was a particular fan of the film.
When Paul Thomas Anderson approached George C. Scott about playing the role of Earl Partridge, Scott threw the script across the room, saying "This is the worst fucking thing I've ever read. The language is terrible."
Paul Thomas Anderson wrote the bulk of the script during two weeks he spent at William H. Macy's Vermont cabin - afraid to go outside because he'd seen a snake.
When Jim Kurring (John C. Reilly) loses his gun, a person wearing a hooded jacket appears very briefly. It is actor Orlando Jones, whose scenes were left on the cutting room floor.
Philip Seymour Hoffman stated during the deathbed scene, everything after Frank's "I'm not going to cry for you" was improvised by Tom Cruise. Cruise didn't feel the scripted lines worked and Paul Thomas Anderson told Cruise to think of when his own father died and to let it move him. During the next take Cruise broke down sobbing, resulting in the scene seen in the film. Hoffman stated Phil's reaction to Frank sobbing was his own, since he didn't know Cruise would enter such a zone and he felt the purity of Cruise's emotion.
Community content is available under
CC-BY-SA
unless otherwise noted.