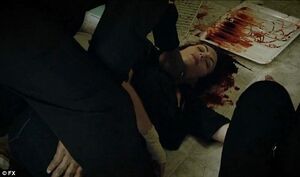 Maggie Siff (1974 - )
Push (2009) [Teresa Stowe]: Shot in the chest by Li Xiaoly while Maggie is tied to a chair. (The actual movie leaves her fate unresolved, as we last see her tied up after Chris Evans escapes; her death is only in one of the deleted scenes included on the U.S. DVD)
The 5th Wave (2016) [Lisa Sullivan]: Dies (off-screen) from the deadly flu virus carried out by the 3rd Wave. Her body is not shown. Her death is mentioned in narration as her daughter (Chloe Grace Moretz), husband (Ron Livingston) and son (Zackary Arthur) stand mourning at her gravsite after her burial in the family's backyard. 
Mad Men: Severance (2015) [Rachel Katz]: Although Maggie doesn't appear in this episode, it's established that her character died (off screen) from leukemia; her death is revealed when Stephanie Drake informs Jon Hamm and her cause of death is revealed when Jon talks to Maggie's sister (Dale Waddington) at Maggie's wake.
Community content is available under
CC-BY-SA
unless otherwise noted.