House of the Dragon Trailer - The Loop
Play Sound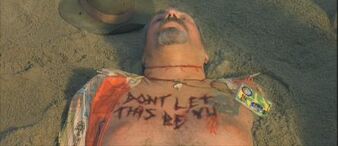 M.C. Gainey (1948 - )
Film Deaths
[
]
Spellbinder (1988) [Brock]: Killed by one of the spellbinders coven members (I haven't seen all of this but it's confirmed he's not among the survivors)
An Innocent Man (1989) [Malcolm]: Killed by David Rasche when a police operation goes wrong.
New Eden (1994) [Thor]: Killed by either Michael Bowen or

Janet Hubert-Whitten

when M.C. opposes their plan to keep the prisoners alive as slave labor.
Con Air (1997) [Swamp Thing]: Thrown through the windshield of the firetruck when it crashes Because John Cusack filled the inside of the truck with water during the final chase across Las Vegas Streets.
Breakdown (1997) [Earl]: Shot repeatedly in the back and head by Rex Linn just as M.C. is about to shoot Kurt Russell.
The Cooler (2003) [Highway Officer]: Hit by a truck just as he's about to shoot Maria Bello and William H. Macy.
Broken Lizard's Club Dread (2004) (Club Dread) [Hank]: Throat slashed with a machete by Erik Stolhanske when M.C. confronts him, in the middle of M.C.'s tough-guy speechmaking. His body is shown afterwards partially buried in the beach when the other staff members discover him, and again hanging in the disco with several other victims. (Played for comic effect.)
Unearthed (2006) [Rob Horn]: Killed by the ancient entity. (I haven't seen all of this but it's confirmed he's not among the survivors)
Django Unchained (2012) [Big John Brittle]: Shot in the chest (with a miniture pistol) by Jamie Foxx at Don Johnson's plantation, as his brother (Cooper Huckabee) looks on in shock.
Stolen (2012) [Hoyt]: Shot repeatedly in the chest/stomach and throat by Edrick Browne and the other cops as Gainey points a shotgun at Danny Huston (following a struggle and shootout with Nicolas Cage). His body is later seen lying on the floor in the background when police investigate his apartment.
Television Deaths
[
]
Gallery
[
]