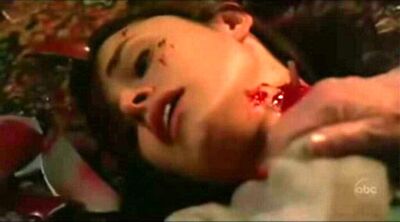 Mia Maestro (1978 - )
In the Time of Butterflies (2001) [Maria Teresa 'Mate' Mirabal]: Beaten and strangled (off-screen), along with her sisters (Lumi Cavazos and Salma Hayek), by a group of Edward James Olmos' men in the woods; the scene goes freeze-frame as the men are swinging their pipes, followed by some on-screen text explaining what happened after the sisters' deaths. (Thanks to Nemanja)
Poseidon (2006) [Elena]: Drowns/hits her head hard while swimming through the flooded ship, after her long hair gets caught in loose wires and she struggles. Her body is taken up by Richard Dreyfuss, then Kurt Russell tries CPR on her, but it's not successful. (Thanks to Fran)
Alias: 30 Seconds (2006) [Nadia Santos]: Accidentally stabbed in the throat by a shard of broken glass when Ron Rifkin knocks her into a glass table during a scuffle. Her body is shown afterwards when Victor Garber discovers her, and again during her funeral in the following episode (I See Dead People). (Thanks to Alex)
The Strain: The Night Train (2015) [Nora Martinez]: Committ suicide by electrocuting herself on the third rail of the subway after being infected by the vampire virus.
Scandal: Get Out of Jail, Free (2015) [Elise Martin]: Shot by Brian White.
Community content is available under
CC-BY-SA
unless otherwise noted.