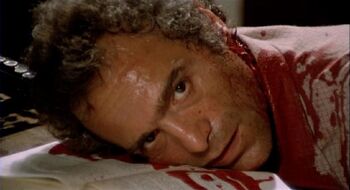 Luigi Pistilli (1929 - 1996)
The Great Silence (Il Grande Silenzio) (1968) [Pollicut]: Shot to death by Jean-Louis Trintignant.
Machine Gun McCain (Gli Intoccabili) (1968) [Duke Mazzanga]: Machine gunned by gangsters
Night of the Serpent (La notte dei serpenti) (1969) [Lieutenant 'The Snake' Hernandez] Shot by Luke Askew.
Cold Sweat (De la part des copains) (1970) [Fausto Gelardi] Accidentally machine-gunned by one of his own men. 
Twitch of the Death Nerve (Reazione a catena; Bay of Blood; Antefatto; Carnage; Last House on the Left Part 2) (1971) [Albert]: Shot to death, along with Claudine Auger, by their son (Renato Cestie), who was unknowingly "playing" with a real gun.
Your Vice Is a Locked Room and Only I Have the Key (Il tuo vizio è una stanza chiusa e solo io ne ho la chiave) (1972) [Oliviero]: Stabbed repeatedly with scissors by Anita Strindberg while he's sitting at his desk. Anita and Edwige Fenech then seal his body inside a wall in the cellar. His body is shown again later on when Franco Nebbia breaks through the wall after hearing the cries of Luigi's cat, which had been sealed inside with him.
None known
Community content is available under
CC-BY-SA
unless otherwise noted.