watch 01:47
Wiki Targeted (Entertainment)
Play Sound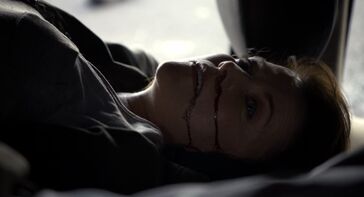 Lucy Lawless (1968 - )
Film Deaths
Boogeyman (2005) [Tim's Mother]: Dies off-screen (exact cause unspecified); her body is shown afterwards lying in her coffin when her son (Barry Watson) comes to pay his respects. (She's made up to look older and haggard for this role.) (Thanks to Aschley)
Angel of Death (2009) [Vera]: Shot to death by a henchman who had mistaken her for Zoe Bell. (Thanks to Nick)
TV Deaths
Xena: Warrior Princess: Been There, Done That (1997) [Xena]: While caught in a time loop, she is shot with a barrage of arrows (along with Renee O'Connor and Ted Raimi) when Ted insults both feuding families in an attempt to unite them; the scene cuts from Ted screaming to an infuriated Lucy waking up when the day restarts.
Xena: Warrior Princess: The Ides of March (1999) [Xena]: Crucified, along with Renee O'Connor, on the orders of Karl Urban. (They were brought back to life by Charles Mesure's heavenly powers in the next season's opening episode Fallen Angel.) (Thanks to CR)
Xena: Warrior Princess: A Friend in Need (2001) [Xena]: Decapitated by a samurai at the end of a battle, after first being shot with several arrows; the screen fades to red as the samurai strikes. Her ghost appears to Renee O'Connor throughout the rest of the episode, and her body and head are shown (separately) when Renee finds them at the samurai's camp. At the end of the episode, Lucy's ghost deliberately passes up the opportunity to come back to life, so that the spirits of an entire village can rest in peace. (Thanks to Lara)
Battlestar Galactica: Occupation (2006) [D'Anna Biers]: Killed in an explosion, along with everybody else in the room, when Christian Tessier detonates his explosives in a suicide bombing at the police graduation ceremony. (Her consciousness was later transferred into yet another body.) (Thanks to Kimberly)
Battlestar Galactica: Rapture (2007) [D'Anna Biers]: Dies as a result of the vision she experiences in the temple. Her consciousness is transferred into a new body, and that body (along with all her others) dies when Dean Stockwell deactivates her and "boxes" her consciousness. (She was later "unboxed" and resurrected in the fourth-season episode The Hub.)
Spartacus: Vengeance: Wrath of the Gods (2012) [Lucretia]: Having delivered Viva Bianca's son, she slaughters the attendants, takes the baby, and followed by Bianca, goes to the cliff precipice. She turns and taunts Bianca, then leans backwards and topples off with the baby. (Thanks to Stephen and Fleming)
Notable Connections
Gallery
Community content is available under
CC-BY-SA
unless otherwise noted.