Wiki Targeted (Entertainment)
Play Sound
Louise Wischermann (1974 - )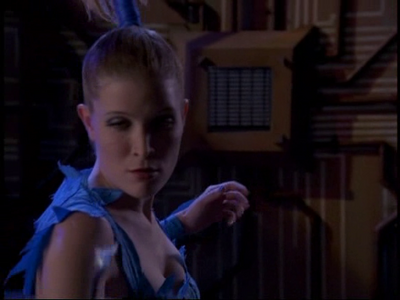 Film Deaths
[
]
None
Television Deaths
[
]
  Lexx: The End of the Universe (1999) [Lyekka]: Electrocuted to death by Mantrid drone arms as she was about to destroy the CPU in the control ship that held Mantrid's consciousness. 
Lexx: Battle (2000) [Lyekka]: After having been taken from Brian Downey's mind and planted by The Gardeners in the previous episode Garden they grow a new Lyekka. When in this episode Garden is attacked by Nigel Bennett's forces from the planet Fire Louise is shot five times in the back with crossbow bolts. She makes it back to Brian and Michael McManus and dies in Brian's arms.
Lexx: Fluff Daddy (2001) [Lulu]: After having stole the key to the Lexx and the transport moth from Brian Downey , Louise is killed by being skewered through the chest along with

Lex Gigeroff

when they release a divine assassin (

Minna Aaltonen

) from cryostasis who fires her wrist mounted blade at them. The key passes to one of the cyborg moth breeders and their bodies are absorbed by the Lexx before anyone else arrives.
Lexx: Lyekka Vs. Japan (2002) [Lyekka]: After the asteroid vessel lands in the ocean off the coast of Japan a giant version of Lyekka emerges and attacks Tokyo in a Godzilla like parody. The giant Louise is killed by Michael McManus when he dives into her mouth from a transport moth and fires his assassin's brace through the roof of her mouth into her brain. Another image of Lyekka that was keeping Brian Downey distracted on the Lexx's monitor (so he couldn't use the Lexx's power against the asteroid vessel) head explodes when the giant Lyekka is killed.