Line 8:
Line 8:
 

*'''''[[Mafia Connection (1970)|Mafia Connection]]''' (E venne il giorno dei limoni neri; Black Lemons)'' '''(1970)''' [''Pasquale Sciortino'']: Crushed to death when a hitman dumps a load of rocks onto him in a staged "accident" at a rock quarry, as [[Antonio Sabato]] looks on in shock.

 

*'''''[[Mafia Connection (1970)|Mafia Connection]]''' (E venne il giorno dei limoni neri; Black Lemons)'' '''(1970)''' [''Pasquale Sciortino'']: Crushed to death when a hitman dumps a load of rocks onto him in a staged "accident" at a rock quarry, as [[Antonio Sabato]] looks on in shock.

 

*'''''Shoot First, Die Later '''(Il polizotto e marcio)''' (1974) '''''[''Killer''] Dies when his car blows up after being knocked off a cliff by [[Luc Merenda]].

 

*'''''Shoot First, Die Later '''(Il polizotto e marcio)''' (1974) '''''[''Killer''] Dies when his car blows up after being knocked off a cliff by [[Luc Merenda]].

−

*'''''Kidnap Syndicate '''(La citta sconvolta: caccia spietata ai rapitori)''' (1975)''''' [''Kidnapper''] Machine gunned to death by [https://cinemorgue.wikia.com/wiki/Luc_Merenda Luc Merenda].

+

*'''''Kidnap Syndicate '''(La citta sconvolta: caccia spietata ai rapitori)''' (1975)''''' [''Kidnapper''] Machine gunned to death by [https://cinemorgue.wikia.com/wiki/Luc_Merenda Luc Merenda].

 
 
 

==TV Deaths==

 

==TV Deaths==
---
Revision as of 04:37, 4 January 2019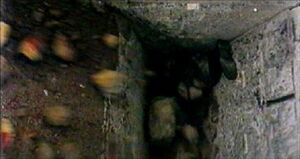 Loris Bazzocchi (1931 -)
Film Deaths
Mafia Connection (E venne il giorno dei limoni neri; Black Lemons) (1970) [Pasquale Sciortino]: Crushed to death when a hitman dumps a load of rocks onto him in a staged "accident" at a rock quarry, as Antonio Sabato looks on in shock.
Shoot First, Die Later (Il polizotto e marcio) (1974) [Killer] Dies when his car blows up after being knocked off a cliff by Luc Merenda.
Kidnap Syndicate (La citta sconvolta: caccia spietata ai rapitori) (1975) [Kidnapper] Machine gunned to death by Luc Merenda.
TV Deaths
None known.