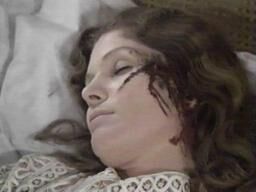 Lois Chiles (1947 - )
Coma (1978) [Mrs. Nancy 'Nance' Greenly]: Poisoned by being given carbon monoxide instead of oxygen during surgery, so that her organs can be harvested. (Thanks to Scheck)
Death on the Nile (1978) [Linnet Ridgeway Doyle]: Shot in the head by Simon MacCorkindale while she's asleep in bed. Her body is shown afterwards when Jane Birkin discovers her, then again as Peter Ustinov and Jack Warden examine her. Her death is shown in several hypothetical flashbacks showing how it could have happened, before the final flashback revealing what actually occurred.
Creepshow 2 (1987) [Annie Lansing]: Killed by the zombie Tom Wright (presumably by strangulation) when she gets home after killing him in a hit-and-run accident (her body is later seen when her husband returns home and finds her in her car with Tom's sign hanging round her neck).
Curdled (1996) [Katrina Brandt]: Stabbed repeatedly by William Baldwin, finishing her off by stabbing her in the back as she's crawling on the floor (as she writes a message in her blood).
In the Heat of the Night: Judgement Day (1993) [Muriel Gray]: Shot in the chest (off-screen) by Ken Kercheval in her bedroom (with the bullet also going through her arms as she attempts to shield herself). Her body is shown afterwards as Hugh O'Connor and Howard E. Rollins Jr. investigate the crime scene.
L.A. Law: How Am I Driving? (1994) [Camilla Greer]: Strangled and drowned to death in the swimming pool (off-screen) by Barry Newman. Corbin Bernsen heads back to see Camilla Greer, but she was drowning at night and he grabbed her out of the pool and see her body. She was strangled. And Arnie found her dead. He left without reporting it. Arnie was set up and he's been arrested for murder as a suspect interrogated by two detectives. Arnie blames Kate Vernon and her personal malice. Frank Askoff confessed to the murder of Camilla Greer and framing Arnie Becker. He was helped by his wife at his side Vivian Askoff.
Community content is available under
CC-BY-SA
unless otherwise noted.