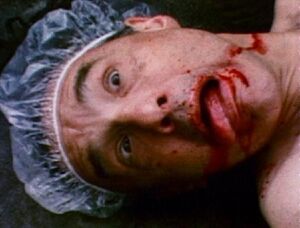 Lloyd Kaufman (1945 - )
a.k.a. Samuel Weil
President and co-founder of Troma Films
Film Deaths
Edit
The Battle of Love's Return (1971) [Abacrombie]: Shot to death in combat in Vietnam. (Thanks to Bjarni)
Class of Nuke 'Em High 3: The Good, the Bad, and the Subhumanoid (1994) [Helicopter Pilot]: Killed in an explosion when Tromie the Nuclear Squirrel throws a nuclear missile at his helicopter. (Thanks to Bjarni)
Terror Firmer (1999) [Larry Benjamin]: Killed in an explosion after he falls on top of Will Keenan's bomb on the movie set. Assorted body parts are shown scattered around the set afterwards. (Played for Comedic Effect)
Citizen Toxie: The Toxic Avenger IV (2000) [Public Service Announcement]: Shot in the chest by his evil doppelganger, in a "public service announcement" on the dangers of parallel universes. (Played for Comedic Effect)
The Janitor (2003) [Bum]: Decapitated when Andy Signore rips his head off. (Thanks to Bjarni)
Parts of the Family (2003) [Carl Ressler]: Eaten alive by zombies. (Thanks to Bjarni)
PDA Massacre (2004) [The Doctor]: Stabbed in the nose (with the stem coming out through his eye) with a lollipop (off-screen) by Debbie Rochon in Lloyd's office, after Lloyd inappropriately attempts to cheer her up after telling her she can never have children. His body is shown after Debbie leaves the office. (Played for comic effect.) (Thanks to Bjarni)
Pot Zombies (2005) [Pizza Delivery Guy]: Eaten alive by a group of zombies with the munchies. (Thanks to Bjarni)
Poultrygeist: Night of the Chicken Dead (2006) [Older Arbie]: Nose torn off by a chicken-zombie. He comes back to life as a chicken-zombie, and is finally destroyed when Kate Graham sprays him with beer while Jason Yachanin is figuring out that alcohol is the zombies' weakness (not noticing that Kate is already killing the zombies). (Played for comic effect.) (Thanks to Bjarni)
Bikini Bloodbath Christmas (2009) [Dr. O'Masterblaster]: Killed in an explosion when Debbie Rochon douses him with gasoline and sets him on fire in his office.
Guardians of the Galaxy (2014) [Prisoner]: Executed (off screen) after Lee Pace gives orders to kill everyone in the prison.
Return to Return to Nuke 'Em High Volume 2 (2017) [Lee Harvey Herzkauf] After mutating into a monster, explodes after being hit with a grenade launcher. (While in monster former, the character is played by Michael J. Epstein
TV Deaths
Edit
None known.
Connections
Edit
Community content is available under
CC-BY-SA
unless otherwise noted.