Cobra Kai Season 4 - The Loop
Play Sound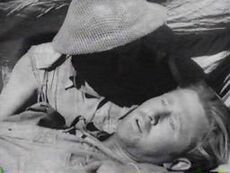 Lloyd Bridges (1913 - 1998)
Film Deaths
[
]
Ramrod (1947) [Red Cates]: Emerges from the rocks just after Joel McCrea has killed

Vic Potel

, wounds McCrae but is himself shot dead. (Thanks to Brian)
Moonrise (1948) [Jerry Sykes]: Killed when Dane Clark smashes his head in with a large rock. (Thanks to Brian) 
Home of the Brave (1949) [Finch]: Wounded by a Japanese sniper, he disappears until we hear him screaming as he is being tortured. With no explanation he later crawls into the camp area where the rest of the squad had been hiding and dies in the arms of

James Edwards

. (Thanks to Brian)
Calamity Jane and Sam Bass (1949) [Joel Collins]: Shot in the chest in a shoot-out with Willard Parker.
Colt .45 (1950) [Paul Donovan]: Shot to death (off-screen) after leaving the saloon with Zachary Scott. His body is shown later when a pair of braves discover him on the road. (Thanks to Brian)
The Sound Of Fury (1950) [Jerry Slocum]: Killed (off-screen), along with Frank Lovejoy, when a lynch mob storms the police station. (Thanks to Brian)
Rocketship X-M 

(1950)

 [Colonel Floyd Grahams]: Killed off-screen in an explosion, along with Osa Massen and Hugh O'Brian when their spaceship crashes on re-entry.
City of Bad Men (1953) [Gar Stanton]: Mortally wounded by being shot in the back by Richard Boone; he dies shortly after hesitating to shoot Dale Robertson.
Wichita (1955) [Gyp Clements]: Shot in the chest in a shoot-out with Joel McCrea.
Ride Out For Revenge (1957) [Capt. George]: Killed in a gunfight in the woods when he is outdrawn by Rory Calhoun. (Thanks to Brian)
Attack On The Iron Coast (1968) [Major Jamie Wilson]: Fatally injured by a shell; he manages to detonate the ship just as George Mikell arrives and shoots him. (Thanks to Brian)
The Valley Of Gwangi (1969) [Peso]: Ripped in half through the waist by Gwangi while trying to escape the valley. 
Bear Island (1979) [Smithy]: Shot in the chest by Lawrence Dane as he tries to shoot Donald Sutherland after first being stabbed in the torso at the end of a struggle.
Airplane! (Flying High) (1980) [McCroskey]: After sniffing glue and becoming high and paranoid, he jumps out of the radio tower upon seeing the airplane, think it's about to crash into the tower. (Note: the filmmakers did intend it to be a comedic death, until different filmmakers had him return in Airplane II: the Sequel with no explanation of his Resurrection.) (Played for comic effect, obviously)
The Wild Pair (The Devil's Odds) (1987) [Colonel Heser]: Stabbed repeatedly by

Bubba Smith

. (Thanks to Michael)
Blown Away (1994) [Max O'Bannon]: Killed in an explosion after Tommy Lee Jones straps a bomb to Lloyd's body, and Lloyd sets it off rather than let his son, Jeff risk his life defusing it.
Mafia! (Jane Austen's Mafia!) (1998) [Vincenzo Cortino]: Poisoned when his grandson deliberately sprays him with industrial-strength insecticide while "playing" with Lloyd in the garden. (A parody of Marlon Brando's death in The Godfather.)
TV Deaths
[
]
Checkmate: The Two of Us (1961) [Howard Gentry/Robert Gentry]: As Howard Gentry, killed (off-screen) by unknown means by his twin brother Robert; his body is dumped along the railroad tracks after Robert makes it appear he fell off a train (Robert had alternated being himself and posing as Howard). (As Robert Gentry, he survives the episode.)
The Love War (1970) [Kyle]: Shot to death by Angie Dickinson. (Thanks to Robert)
Haunts of the Very Rich (1972) [Dave Woodrough]: Dies (I don't know the circumstances) before the story begins; the movie takes place at an "island resort" which is revealed to be the afterlife. (I haven't seen this, but I'm familiar with its premise.)
Death Race (State of Division) (1973) [General Ernst Beimler]: Machine-gunned by his subordinate (Eric Braeden) after Lloyd shoots Roy Thinnes despite Roy's waving a white flag and is about to shoot Doug McClure. (Thanks to Robert)
The Deliverance of Elaine (1996) [Addison Hodges]: Hacked to death with a hatchet/ice axe by an intruder (implied as being either Mare Winningham or Chris Cooper) while he's working in his surgery/study. His body is later seen as a patient looks through a window and sees him dead.
Notable Connections
[
]