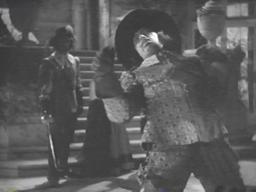 Lionel Atwill (1885 - 1946)
Film Deaths
Edit
Mystery of the Wax Museum (Wax Museum) (1933) [Ivan Igor]: Suffocates when he falls into a vat of molten wax in his laboratory, after being shot in the back by a policeman. (See also Vincent Price in the 1953 remake of House of Wax)
Murders in the Zoo (1933) [Eric Gorman] Strangled by a boa constrictor while trying to elude the police by hiding in the reptile house.
The Vampire Bat (1933) [Dr. Otto von Niemann]: Shot by Robert Frazer.
The Man Who Reclaimed His Head (1934) [Henry Dumont]: Stabbed with a bayonet by Claude Rains; Claude then decapitates Lionel (off-screen) and places his head in a satchel.
The Three Musketeers (The Singing Musketeer) (1939) [De Rochefort]: Stabbed in the stomach during a swordfight with Don Ameche.
The Sun Never Sets (1939) [Hugo Zurof] Killed when the RAF bombs his radio station. The body is shown when a British officer (Basil Rathbone) enters the station afterward to inspect the damage.
Sherlock Holmes and the Secret Weapon (1942) [Professor James Moriarty]: Falls to his death (off-screen) through a trapdoor while fleeing from Basil Rathbone; we only hear Lionel's scream and the impact of his landing. (Thanks to Stephen) 
Captain America (1944) [Dr. Maldor, aka the Scarab]: Executed in the electric chair.
Fog Island (1945) [Alec Ritchfield]: Drowned, along with Veda Ann Borg, Jerome Cowan and Ian Keith, when the room they're trapped in gets flooded.
House of Dracula (The Wolf Man's Cure) (1945) [Inspector Arnz]: Electrocuted when Onslow Stevens throws him against some equipment in Onslow's laboratory.
Genius at Work (1946) [Latimer Marsh a.k.a The Cobra]: Falls to his death from the building ledge, after being shot by police in a shoot-out.
Community content is available under
CC-BY-SA
unless otherwise noted.