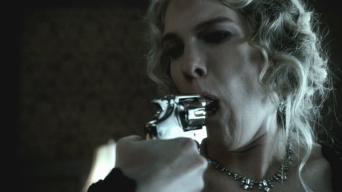 Lily Rabe
(1982 - )
Film Deaths
Edit
All Good Things (2010) [Deborah Lehrman]: Shot in the back of the head (off-screen) by Phillip Baker Hall as she waits in Ryan Gosling's apartment; the film cuts to Ryan swatting a fly with a newspaper as Phillip fires.
Fractured (2019) [Joanne Monroe]: Accidentally pushed over by Sam Worthington, causing her to be stabbed in the head by a piece of rebar protruding from the ground.
TV Deaths
Edit
Medium
American Horror Story: Murder House: Open House (2011) [Nora Montgomery]: Commits suicide by shooting herself in the mouth, after she shoots Matt Ross. She appears as a ghost in this and several other episodes. (Thanks to Lauren, Chip, and Tommy)
American Horror Story: Asylum: The Name Game (2012) [Sister Mary Eunice McKee]: Thrown from a balcony by Joseph Fiennes, as a mercy killing after she had been possessed by a demon; her spirit is taken away by the Angel of Death (Frances Conroy). (Thanks to Frank, Lauren, and Tommy)
American Horror Story: Coven: Bitchcraft (2013) [Misty Day]: Burned to death at the stake by a lynch mob. She manages to resurrect herself due to the mastery of swamp healing and her necromancer powers.
American Horror Story: Coven: The Seven Wonders (2014) [Misty Day]: Trapped in Hell after failing to return to Earth during the test of Descensum; her body turns into dust in Sarah Paulson's arms. She is resurrected by Cody Fern in the episode Boy Wonder from Apocalypse. She is resurrected for good in the episode "Apocalypse Then" when Billie Lourd travels back in time to kill Cody so that the apocalypse won't happen.
American Horror Story: Hotel: Devil's Night (2015) [Aileen Wuornos]: Appears as a ghost during the serial killer dinner party hosted by Evan Peters along with John Carroll Lynch, Seth Gabel and Anthony Ruivivar, having been executed by lethal injection years before the series takes place.
American Horror Story: Roanoke: Chapter 8 (2016) [Shelby Miller]: Commits suicide by slashing her own throat with a knife as Cuba Gooding Jr. looks on.
American Horror Story: 1984: The Lady in White (2019) [Lavinia Richter]: Stabbed in the stomach by her son (Connor Cain) in self-defense; She then returns as a ghost after.
Noteworthy Connections:
Edit
Daughter of Jill Clayburgh and David Rabe (playwright)
Half-sister of Jason Rabe (songwriter)
Community content is available under
CC-BY-SA
unless otherwise noted.