Wiki Targeted (Entertainment)
Play Sound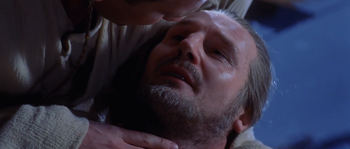 Liam Neeson (1952 - )
Film Deaths:
[
]
Excalibur (1981) [Gawain]: Killed (off-screen), presumably by Robert Addie or his men. His body is shown afterwards when Paul Geoffrey sees Liam's horse run by with his body tied to it. (Note: Although Paul identifies the body as Liam's character, the "body" we see is obviously an unconvincing stunt double.)
The Mission (1986) [Fielding]: Shot dead by Portuguese soldiers during the battle on the river; his body remains in his canoe as his Native comrades continue rowing downstream, eventually taking it over the edge of a waterfall.
Schindler's List (1993) [Oskar Schindler]: Dies (off-screen) of liver failure; the movie ends with an epilogue at the real Oskar Schindler's grave, as the cast and several of the actual people saved by Schindler pay their respects.
Star Wars Episode I: The Phantom Menace (1999) [Qui-Gon Jinn]: Impaled through the chest with a light-saber during a duel with Ray Park as Ewan McGregor watch on in shock and horror. He dies shortly afterwards while talking to Ewan. His body is shown again later on during his funeral pyre. (Neeson reprise his role as Qui-Gon Jinn in Star Wars: The Clone Wars, Star Wars: Episode II: Attack of the Clones and Star Wars: The Rise of Skywalker as a force ghost).
Gangs of New York (2002) ["Priest" Vallon]: After being stabbed in the stomach by Daniel Day-Lewis during the streetfight between the two gangs; he dies after talking to his son (

Cian McCormack

) when Daniel finishes him off by stabbing him in the heart.
The Grey (2011) [John Ottway]: Presumably mortally wounded in a battle by the alpha wolf. After the closing credits, he is shown lying on top of the dying wolf; while his fate is unconfirmed, the chances of his survival are extremely slim.
Unknown (2011) [Dr. Martin Harris]: Liam goes into a four-minute long cardiac arrest after Diane Kruger saves him from drowning in a river. He gets revived by paramedics and is in a four-day coma.
Anchorman 2: The Legend Continues (2013) [History Channel Host]: Possibly killed along with his news team when Will Smith calls in an airstrike to carpet bomb the whole park the news teams are all fighting in. (It's not established who is killed in the airstrike and who survives, but I will list this just in case.) (Played for comic effect.)
Khumba (2014) [Phango (Voice)]: Playing a African Leopard; he is crushed to death when a slab of rock, followed by a boulder fall on top him of him after he falls from a cliff after it gives way during a fight with Khumba (Voice of Jake T. Austin)
The Prophet (2014)

[Mustafa]: Voicing an animated character; executed by shooting (off-camera). We learn his death after a loud firing sound and Salma Hayek's reaction, he appears as a ghost.
A Monster Calls (2016) [The Monster/Conor's Grandfather]:"Conor's Grandfather" dies (off-screen) of unspecified causes sometime before the film starts. He only appears in a photo.  Liam also plays the voice of "The Monster" in the film. ("The Monster" survives the film.)
Silence (2016) [Ferreria]: Dies (off-screen) of unspecified causes. His death is mentioned in the voice-over narration given by 

Béla Baptiste

.
TV Deaths:
[
]
The Late Show with Stephen Colbert: Ethan Hawke/Sen. Claire McCaskill & Sen. Amy Klobuchar/Nathaniel Ratcliff & the Night Sweats (2015) [Mr. Toffee]: Begins the skit during the live-action "Candy Crush: The Movie" skit already having been impaled by a candycane. He spends the rest of the skit talking to

Stephen Colbert

and presumably dies after the skit ends. (All played for comedy.)
Video Game Deaths:
[
]
Fallout 3 (2008) [James/Dad]: Poisoned when he causes a radiation leak in order to prevent

Peter Gil

from obtaining his scientific findings; he dies after telling the player character to run.
Notable Connections
[
]
Gallery
[
]
</gallery>