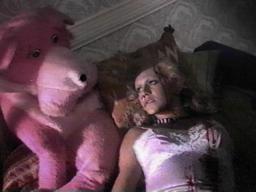 Lenore Zann (1959 - )
Current MLA for the Nova Scotia Legislative Assembly
Film Deaths:
Edit
Murder by Phone (Bells; The Calling; Hell's Bells) (1980) [Connie Lawson]: Killed when Robin Gammell transmits a combination ultrasonic signal/electrical charge through her telephone.
American Nightmare (1983) [Tina]: Throat slit with a straight razor in the empty strip club. (Thanks to Jake)
Mania (Mania: The Intruder) (1986) [Julie Somers]: Stabbed to death (off-screen) by Stephen Hunter when she tries to kill him; her body is shown afterwards lying on the floor when the police arrive.
Prettykill (Tomorrow's a Killer) (1987) [Carrie]: Stabbed to death (off-screen) presumably by Suzanne Snyder (who then slits her throat with a straight razor) whilst in her alternative personality. Her body is later seen when Season Hubley discovers her, then again when Snyder (who has no memory of the murder) comes across the scene. (Thanks to Jake)
Cold Sweat (1993): Shot point-blank in the chest after accidentally encountering her boss's murderer and fleeing into an elevator; then re-appears throughout as an unnamed ghost to show the hit man her bullet wounds and generally haunt him.
Natural Enemy (1997) [Gina Knox]: Strangled/neck snapped by William McNamara (who makes it look like her husband, his father killed her then committed suicide); her body is shown again later on when Lesley Ann Warren discovers her. (Thanks to Eric)
TV Deaths:
Edit
Something's Afoot (1984) [Hope]: Accidentally poisoned, along with Andy Gibb, when they drink the wine that was intended for Wayne Robson. (This was a televised stage play that aired on Showtime.)
Lexx: Woz (1999) [The Dark Lady]: Disintegrated when Walter Borden detonates a suicide-bomb that vaporizes the entire complex. (Thanks to Stephen)
Mobile Suit Gundam: Sorrow and Hatred (2001) [Crowley Hamon]: Killed in an explosion caused by Ryu Jose (Ward Perry) ramming his Core Fighter into Hamon's Magella Top as she tries to kill Amuro Ray (Brad Swaile) and destroy the White Base.
Community content is available under
CC-BY-SA
unless otherwise noted.